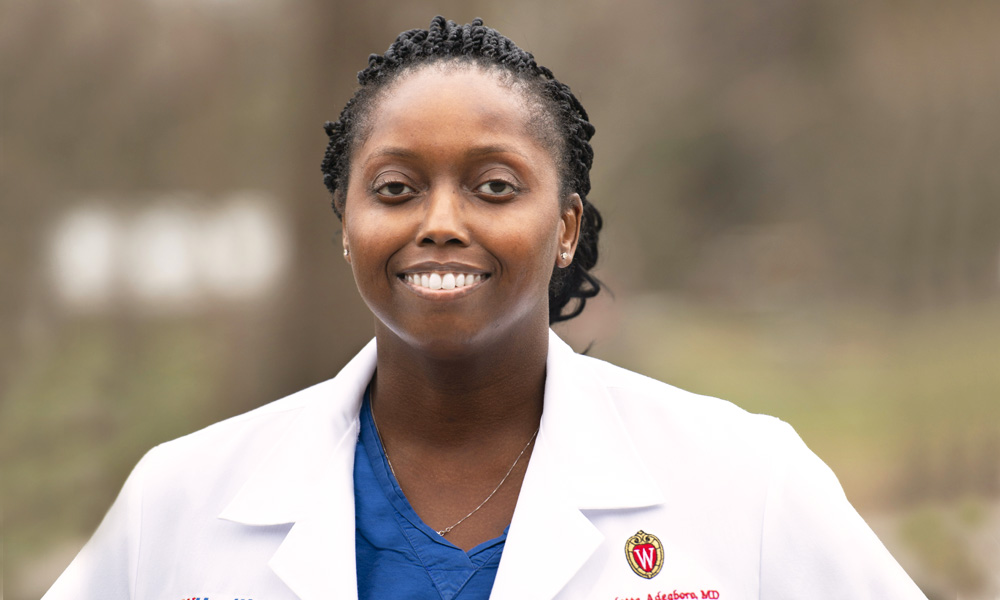 Claudette Adegboro, MD, assistant professor, Neonatology & Newborn Nursery, has been selected as a 2021 University of Wisconsin School of Medicine & Public Health (SMPH) Centennial Scholar. The goal of the Centennial Scholars Program is to develop faculty whose diversity enhances the quality of education and research at SMPH, and who may serve as visible and available role models for students and trainees, especially those from underrepresented minority backgrounds.
As a clinician-researcher, Adegboro's primary research interest is in preventing neonatal brain injury and improving neurodevelopmental outcomes among preterm and late preterm infants. Her current projects include the development of a hypoxic-ischemic encephalopathy risk calculator, and the investigation of the use of near-infrared spectroscopy (NIRS) to determine chronic changes in cerebral tissue oxygenation in preterm neonates with intraventricular hemorrhage.
Recently, Adegboro co-authored a study, titled "Non-invasive continuous renal tissue oxygenation monitoring to identify preterm neonates at risk for acute kidney injury", which identified NIRS as an emerging tool for early detection of acute kidney injury in preterm infants. The study, which was published in Pediatric Nephrology in November 2020, could help develop protocols and establish the use of NIRS to detect both cerebral and kidney injury in preterm infants. Adegboro's long-term research goal is to develop preventive strategies, such as early warning systems and clinical monitoring tools, to identify preterm infants at risk for poor neurodevelopmental outcomes.
In addition to these research interests, Adegboro is also passionate about educating others on racial inequality in healthcare and participating in community outreach for children from underrepresented backgrounds. She is an advocate for maternal breastfeeding equity among minority women and for understanding the disparities in mortality that exist between Black and white infants. Adegboro also serves as the division's Physician Lead for the Periviable Infant Project / Maternal Fetal Medicine Liaison.
Through the Centennial Scholars Program, Adegboro will receive salary support for protected time in the amount of $70,000 annually for three years.