In 1989, in a cornfield in southeastern Pennsylvania, Holmes Morton, MD, built a timber-frame clinic to care for the area's Old Order Amish and Mennonite children, many of whom had poorly understood, complex medical problems due to inherited disorders.
Since then, the Clinic for Special Children has cared for children with over 100 rare genetic disorders. It has advanced methods of newborn screening, developed diagnostic techniques at its onsite laboratory, and furthered clinical research on inherited disorders.
The clinic's scientific successes have translated into improved care for all children with inherited disorders—not just those in the Amish and Mennonite communities the clinic directly serves. Dr. Morton went on to receive an Albert Schweitzer Prize for Humanitarianism in 1993 and a MacArthur fellowship in 2006.
On October 10 and 11, 2012, the Department of Pediatrics was honored to welcome Dr. Morton as a visiting professor. The two-day event focused on improving newborn screening for and health care delivery to Wisconsin's Amish and Mennonite population—which, at over 16,000 for the Amish and growing rapidly, is the fourth largest in the US.
A 'Phenomenal' Community Event
Dr. Morton spent his first day in Wisconsin at a community health event at the Scenic Bluffs Community Health Center in Norwalk, near one of the more concentrated Amish settlements in the state.
Approximately 400 people attended, said Department of Pediatrics Associate Professor Christine Seroogy, MD, who organized the professorship. Half were community practitioners, state and county health personnel, UW School of Medicine and Public Health (SMPH) faculty and staff, and even four pediatrics residents. The remaining 200 were Amish and Mennonite individuals, families, and midwives from communities throughout the region—some of whom came from 300 miles away to participate.
Dr. Morton gave an inspiring presentation on ways to improve newborn screening and health care delivery to Amish and Mennonite communities. Other speakers included:
Murray Katcher, MD, chief medical officer of the Bureau of Community Health Promotion, who provided an overview of newborn screening in Wisconsin;
Lisa Varnes-Epstein, MHSPA-C, LM, a licensed midwife who provided a hands-on newborn screening training session for Amish midwives;
Glen Hershberger and Dennis Lehman, two Amish men on the board of directors for a community health clinic in Topeka, IN, that cares for Amish and Mennonite children.
Later, Jim Deline, MD, a physician who cares for many Amish and Mennonite families at the nearby La Farge Medical Clinic, led an open question-and-answer session for all participants. The discussion touched on many aspects of healthcare, including vaccinations, accessibility, types of treatments, and cost.
Lunch was even provided by Amish women from several nearby communities, and participants lingered for hours afterwards to speak directly to Dr. Morton.
"This was a phenomenal event that truly helped define barriers to healthcare for Amish and Mennonite communities in Wisconsin, and created new lines of communication between those communities and UW," said Dr. Seroogy.
Connecting Further on Campus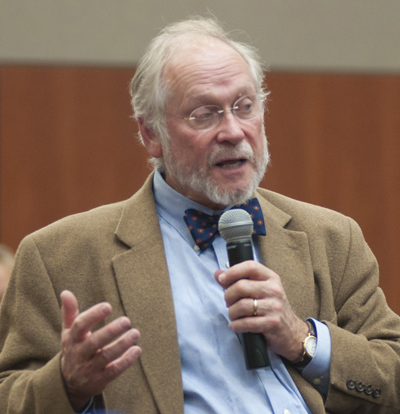 Dr. Morton then traveled to Madison, where he gave several presentations on the SMPH campus.
His first presentation, at the Department of Pediatrics Grand Rounds, was entitled "Genomics, Plain People, and Local Medical Homes." In it, he described the history and mission of the Clinic for Special Children, and delved into the science behind some of the genetic disorders—such as glutaric aciduria (GA1), maple syrup urine disease (MSUD), and Crigler-Najjar syndrome—encountered in the population the clinic serves.
Dr. Morton also explained how over 20 years of deep, population-specific knowledge enables him and his staff to make faster and more cost-effective diagnoses, and recommend appropriate interventions. "One of the most important things about the clinic is that the troubles of the past are remembered," he said.
He also emphasized that many genetic disorders seen at the clinic can be identified in the first 24 hours of life. What's more, nearly 80 percent of those disorders are treatable, furthering the case for more comprehensive newborn screening—for all children.
Later that day, Dr. Morton gave a second presentation, "Cutting-Edge Diagnostic Testing the Low-Budget Way", in which he shared concrete suggestions for advancing newborn screening in Wisconsin's Amish and Mennonite populations.
And in discussion panels, community physicians, midwives, and members of the Amish and Mennonite populations shared thoughts on health care barriers, affordability, and cultural considerations.
'You Have to Be in the Community'
According to Dr. Seroogy, the visiting professorship sparked important dialogue on ways to better serve Wisconsin's Amish and Mennonite children—but the work doesn't end there.
She and others are now considering concrete ways to team up with state and county health departments, and Amish and Mennonite communities, to improve newborn screening rates.
Ideas include training Amish midwives there to perform newborn screening, and establishing a more robust genetics service statewide.
"The one thing Dr. Morton hammered home is that you have to be in the community," she said. "There are a lot of babies that are not being seen, and if we had a presence in the community, that could change."
Financial support for the professorship was provided by a grant from the American Academy of Pediatrics and its Wisconsin Chapter (Ellen Wald, MD, principal investigator); the March of Dimes; and the American Family Children's Hospital.