Children who need emergency care now have a place at American Family Children's Hospital (AFCH) just for them.
The new pediatric emergency unit, a separate area within the UW Hospital and Clinics Emergency Department (ED), has a dedicated children's waiting area and six treatment rooms.
It's staffed by pediatric emergency medicine physicians, nurses, and child life specialists—all of whom work to meet the specific care needs of children and their families.
A Growing Program
The pediatric emergency medicine program at UW was first established in 2007, when Michael Kim, MD, joined the faculty. In 2008, he was joined by Gregory Rebella, MD, and in 2009, by Joshua Ross, MD. All three physicians are fellowship-trained in pediatric emergency medicine.
Plans for a dedicated pediatric ED space were in part borne out of a substantial increase in the number of children seeking emergency care at AFCH—from approximately 6,000 visits in 2007 to over 11,000 in 2012. There was also a desperate need for a unit that could provide pediatric care without having to compete with adult patients.
Finding space in the existing main ED was a challenge, but fortunately, a collaborative solution emerged. The construction of a flexible care area for adult patients freed up space for the dedicated children's area.
A Calming Environment with Specialty Services
The separate pediatric ED offers many advantages. First, because it's a quieter, smaller area decorated with child-friendly motifs, it provides a more calming environment for children and families alike.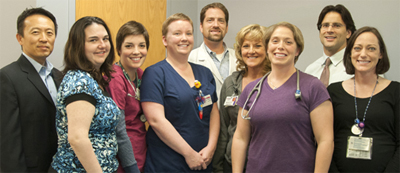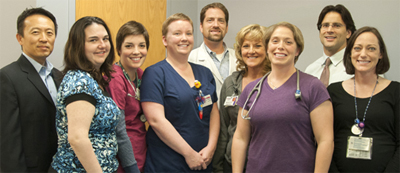 Also, in addition to physicians, it's home to pediatric ED nurses Leah Kechele, Monica Cain, Pam Van Mol, and child life specialists Amanda Roudebush and Regina Yocum, all of whom are experts in the unique physiologic and developmental needs of children.
Finally, because the ED is another front door to the AFCH—last year, half of AFCH patients were admitted from the ED—the new space helps create a more seamless experience for children and their families.
Dedicated nurses provide 24/7 care for children in the new unit. Pediatric emergency medicine faculty, nurses, and residents, along with emergency medicine physicians James Svenson, MD, MS, and Jamie Hess, MD, staff the service 12 hours per day—coverage that will expand to up to 16 hours per day as new faculty are recruited. Emergency medicine colleagues ensure continuity around the clock.
Collaborations for Education and Research
But for pediatric emergency medicine faculty, the growth doesn't end there.
Dr. Rebella, the program's education director, has developed a comprehensive pediatric emergency medicine educational curriculum for emergency medicine residents.
He and Dr. Ross, in collaboration with pediatric critical care faculty, have also helped to create a simulation and procedures curriculum for medical students and residents in both emergency medicine and pediatrics. This hands-on training takes place at UW Health's state-of-the-art clinical simulation facility.
And Dr. Kim, the emergency medicine associate research director, is working to build a research infrastructure that will focus on such areas as emergency medical services, education and simulation, emergency imaging, and pain management.
In addition, the team shares resources with and provides expertise to local and regional EDs, which helps improve emergency care for children throughout the region.
"Children are not small adults," Dr. Kim commented. "They deserve a special place and team, especially in emergency situations. With the opening of the new pediatric emergency unit, we are better poised to provide the best emergency care to children in our community and beyond."