In many ways, the job of a pediatrician is like that of a parent: to prepare children to successfully navigate the adult world.
But for children with chronic illnesses or disabilities, that job is particularly complex.
At December's "Successful Youth Transition into Adult Healthcare" Summit, approximately 80 clinicians from around the state learned the roles, processes, and systems required to help those children—and their families—make the leap from pediatric to adult healthcare.
'A Process, Not an Event'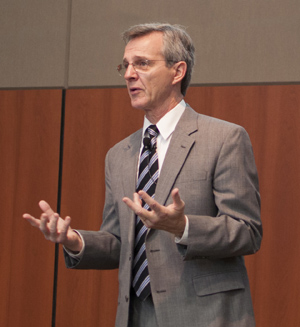 The Summit, held December 12, 2012, at the Kalahari Resort in Wisconsin Dells, and a subsequent Pediatric Grand Rounds presentation on December 13, welcomed Albert Hergenroeder, MD, as its keynote speaker.
Successful healthcare transition is important, he explained, because 90 percent of children with chronic conditions survive into adulthood. Despite this, transition planning, which he defined as "a process, not an event," often starts too late and is poorly coordinated.
The reasons for this are complex. Pediatric and adult clinicians struggle with communication, capacity, and cost. Adolescent patients must gradually be empowered to make their own healthcare decisions in the more fragmented world of adult healthcare. Families and clinicians must be ready for this culture change.
But, as Dr. Hergenroeder described, integrating a transition planning tool into the electronic health record (EHR) system provides a framework for the process.
The tool he worked to develop at Texas Children's Hospital is based around a series of core health questions. Starting at age 11, clinicians begin asking patients these questions at each visit to assess their knowledge and skills around their individual health situations. Patients receive supplemental written information and complete age-appropriate activities to ensure mastery.
Dr. Hergenroeder emphasized that this tool is only part of the solution to improving transition planning. Ongoing process evaluation, continued communication with adult clinicians, and a commitment to care coordination, are also essential.
Self-Management, EHR Integration, and Support
Rounding out the Summit were speakers from healthcare organizations around Wisconsin, who delved deeper into the topics raised by Dr. Hergenroeder.
Tera Bartelt, MS, a pediatric clinical nurse specialist at the Children's Hospital of Wisconsin (CHW), presented staged interventions that promote self-management in adolescent patients.
Panelists from three institutions shared experiences integrating transition care coordination into hospital EHRs: Craig Becker, MSSW, and Darci Pfeil, NP, from the American Family Children's Hospital (AFCH) Pediatric Pulmonary Center; Becky Birchmeier, RN, MS, from the Marshfield Clinic Institute for Quality; and Robert Rohloff, MD, and Christopher Schwake, MD, from CHW.
Finally, Barbara Katz, co-director of Family Voices of Wisconsin, and Sharon Budd, CPNP, from Gunderson Lutheran Medical Center, discussed ways to support families and clinicians through the role shifts, emotional changes, and legal steps associated with healthcare transition.
The Summit provided a valuable foundation for clinicians working to established EHR-based healthcare transition programs, said Kristin McArdle, MSW, project coordinator for AFCH's Youth Health Transition Hub.
"Transition care helps save money and kids' lives," she said. "Integrating it into the EHR is challenging, but it allows us to know how children and families are doing as they work through this important process."
---
For more information about healthcare transition, and to view speaker presentations, visit Health Transition Wisconsin.
This event was supported by the Youth Health Transition Grant at American Family Children's Hospital (Ellen Wald, MD, principal investigator) and the Wisconsin Statewide Medical Home Initiative at Children's Hospital of Wisconsin. Both are part of the Children and Youth with Special Health Care Needs Program, which is funded by the Maternal and Child Health Title V Services Block Grant.