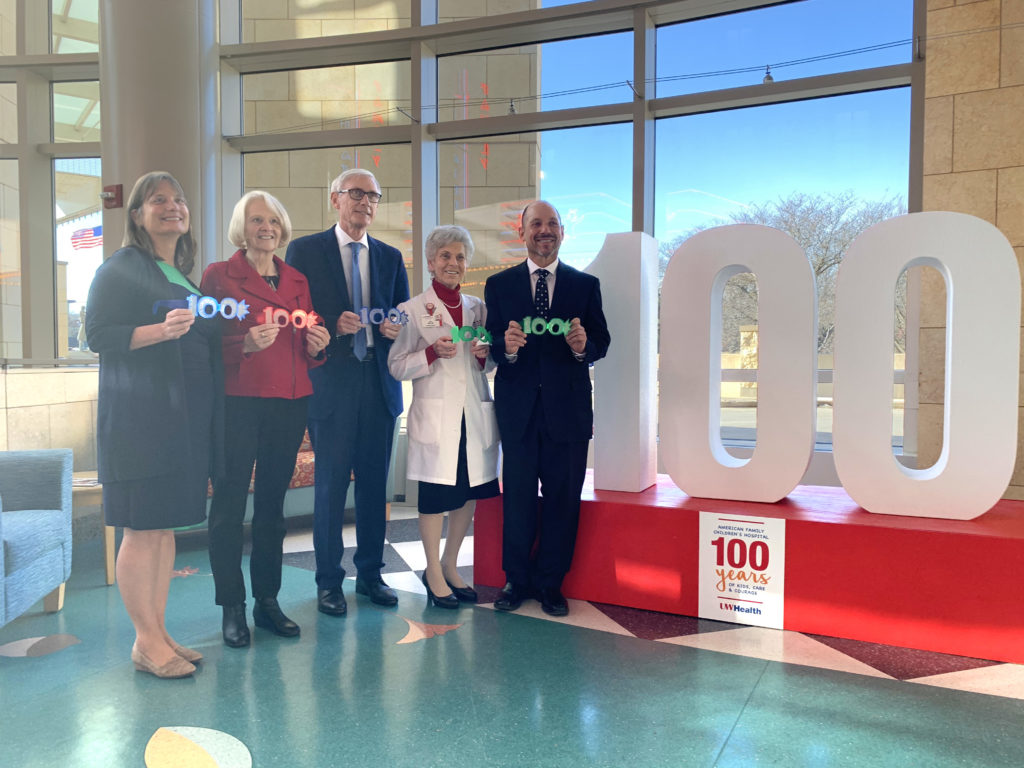 The American Family Children's Hospital kicked off its 100th anniversary celebration on Tuesday, January 7, with a state-wide proclamation from Governor Tony Evers. The proclamation honored and recognized the entire year as the 100th anniversary of pediatric care at the University of Wisconsin.
The original two-story, 40-bed Mary Cornelia Bradley Hospital for the Study of Children's Disease was built on the University of Wisconsin-Madison campus during the 1918-1920 influenza pandemic. Polio, scarlet fever, smallpox and other communicable diseases were common among children when the hospital first opened.
"About a quarter of patients at the hospital today were born prematurely or with birth defects or genetic conditions and would not have survived a few decades ago," explained Ellen Wald, MD (Chair, Department of Pediatrics) during a recent interview with the Wisconsin State Journal. Additionally, about 15% have cancer, some treated with bone marrow transplants pioneered at UW-Madison more than 50 years ago.
"Children are not just small adults; they require specialized care," stated Dr. Wald in the interview. "If your kid has cancer or is hit by a car or falls from a tree, you suddenly appreciate all the subtlety a children's hospital can bring to the care of kids."
After the Governor's proclamation, the Governor and First Lady met with patients, families, nurses, doctors and staff, and toured the hospital with Dr. Wald, Barbara Byrne, DNP (Vice President, Chief Nursing Officer, American Family Children's Hospital), and Alan Kaplan, MD (Chief Executive Officer, UW Health).
A brief timeline of the hospital's history:
In 1920, the first children's hospital opened as the Mary Cornelia Bradley Hospital for the Study of Children's Disease on the University of Wisconsin-Madison campus. It was named in honor of a UW professors' daughter who died of meningitis in 1916. The building is now called Bradley Memorial and it is still in use on campus as office space for several UW-Madison departments.
In 1924, Wisconsin General Hospital opened. It was later named University Hospital. This hospital cared for mostly adults but some pediatric patients as well. The building is currently known as the Medical Sciences Center on campus.
In 1930, to combat the new polio epidemic, a new children's hospital, called the Wisconsin Orthopedic Hospital, was built. Today the building is home to UW-Madison Nutritional Services Department.
In 1957, pediatric care was consolidated into the Wisconsin Orthopedic Hospital and renamed University of Wisconsin Children's Hospital.
In 1979, on the far west side of campus, the new clinical sciences center opened, providing a new home for UW Hospital and Clinics and UW Children's Hospital.
In 2007, American Family Children's Hospital, a world-class, state-of-the art facility with contemporary family-friendly amenities, opened next to UW Hospital and Clinics.
More information and archived photos about the 100 years are available at https://100years.uwhealthkids.org/