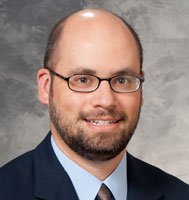 A unique new therapy for children and young adults with a particular form of leukemia received Food and Drug Administration (FDA) approval on August 30, 2017. American Family Children's Hospital will be one of a handful of certified treatment centers nationwide that offer the treatment, another example of personalized medicine.
Known as chimeric antigen receptor (CAR)-T cell therapy, Kymriah (tisagenlecleucel) was approved to treat acute lymphoblastic leukemia (ALL) that has resisted other treatment or has relapsed a second time. CAR-T cell therapy engineers a child's immune cells (called T-cells) to express a CAR to attach to and eliminate those leukemia cells that express a specific antigen on their cell surface.
The extracted T-cells are sent to a processing center where they are reprogrammed to express the receptor, and then shipped back to American Family Children's Hospital for infusion into the child with relapsed leukemia. The collection of the patient's T-cells and the infusion of the CAR-T cells are both outpatient procedures.
American Family Children's Hospital was one of a small number of sites that conducted clinical trials for CAR-T cell therapy. One patient has been in "deep remission" for several months, according to site principal investigator Dr. Christian Capitini.