After nearly two years of construction, the American Family Children's Hospital (AFCH) completed the final phase of its eighth-floor expansion in May.
The expansion, which includes a 14-bed, Level IV Neonatal Intensive Care Unit (NICU), a 12-bed Universal Care Unit and a state-of-the-art imaging pavilion, was built with support from the AFCH "Sick Kids Can't Wait" campaign.
A Healing Environment for the Sickest Babies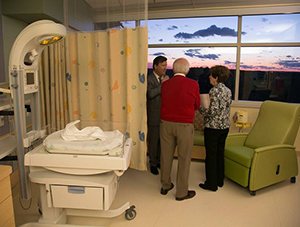 The new NICU provides care for premature and full-term infants who typically have multiple medical anomalies and/or need immediate surgery to survive.
It's designed to provide an optimal healing environment for the baby and maximum comfort and convenience for families during what can be a very stressful time.
Each family's room is totally private, and includes a reclining rocker, private bath and shower, a couch that converts into a sleep bed, plus in-hospital access to a family kitchen and laundry facilities. Hallway carpeting and special flooring and ceiling tiles minimize sound that can adversely impact brain development in premature infants.
"Our new Level IV NICU—only the second one in the state—allows us to address every single need of babies and their families, regardless of complexity," said Department of Pediatrics Chair Ellen Wald, MD. "Neonatologists, pediatric surgeons and medical subspecialists will all be on hand to attend to each and every problem an infant has."
Advanced Care with a Focus on Home Transition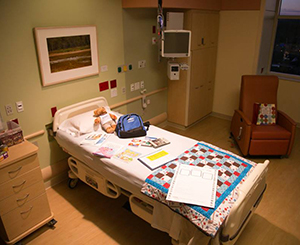 The new Universal Care Unit serves children whose medical needs exceed the capabilities of a general care unit, but do not necessitate a stay in the Pediatric Intensive Care Unit. Those children may have epilepsy, lung disorders, kidney failure, muscle and neurologic problems, or other complex conditions.
The unit has a particular focus on preparing families whose children are dependent on technology such as gastrostomy tubes or tracheostomies for the transition from the hospital to home care after discharge.
"Expert nursing care with emphasis on education for parents or other caregivers will pave the way for a smooth transition," commented Dr. Wald.
Pioneering Lower-Dose Imaging, Hybrid OR Suite
Finally, the expansion includes a new imaging pavilion and multispecialty pediatric hybrid suite with space for catheterization, angioplasty, and operating rooms.
In the imaging pavilion, physicians can obtain high-quality magnetic resonance imaging, fluoroscopy and ultrasound with an up to 60 percent reduction in radiation exposure. AFCH is the first children's hospital in the world to offer the lower-dose radiation technology. (Previously, children needing imaging services were sent to UW Hospital and Clinics.)
Together, the imaging pavilion and hybrid suite are part of a "universal room concept." This allows pediatric physicians from multiple specialties to share equipment needed to care for children with congenital heart disease, arrhythmias, neurovascular diseases and tumors that require image-directed biopsies.
"Our imaging pavilion turns into an operating room without the need to move patients if imaging identifies the need for additional or emergency surgery," explained Dr. Wald. "This is an amazing safety feature that undoubtedly will be a tremendous benefit for our patients."