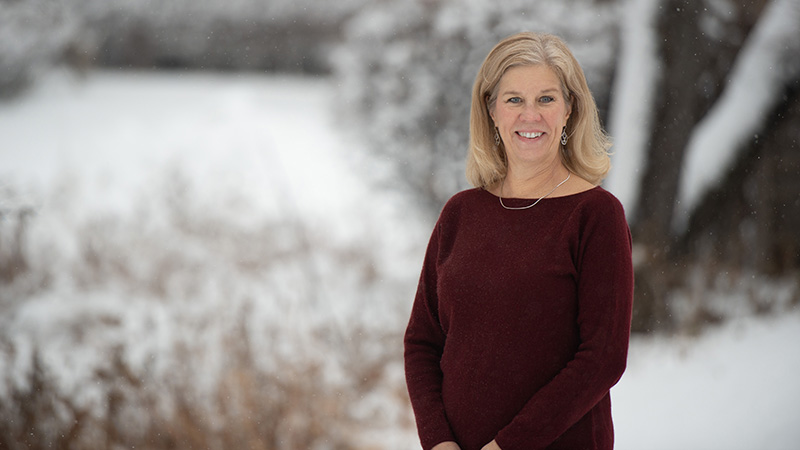 Growing up in Minnesota's Twin Cities, she knew early on that she wanted to be a doctor. Not only that, she also already knew she would be a pediatrician. Amy J. Plumb, MD, associate professor in the Division of General Pediatrics and Adolescent Medicine, always loved science, education, and kids. What other profession could so seamlessly combine all three interests?
After earning her BA from St. Olaf College with a distinction in chemistry and her MD from the then Mayo Medical School, Plumb travelled to the University of Wisconsin in 1988 for her residency in pediatrics. "Choosing pediatrics was a gut instinct," Plumb explained. "I hadn't changed my mind through all the specialty rotations, only adding OB-GYN as a backup if pediatrics didn't work out for me. It did work out." She served her fourth year as chief resident and expected to return to the Twin Cities to start a practice. Instead, she was offered a challenging opportunity she couldn't pass up.
The UW Hospital and Clinics, as it was then called, wanted to open a new outpatient clinic on Madison's East Side. Beyond the main hospital and clinic on the UW–Madison campus, in 1992 there was only one small separate clinic in Middleton.
"I was offered a pediatrician position, to join a group of four other physicians who would start a new multispecialty primary care clinic on the East Side," Plumb recounted. "There was me, an OB-GYN, a geriatrician, and two internists. Space was rented above a bank. That was it: we were pioneers!"
That clinic eventually became the UW Health East Clinic. Today it's known as the UW Health E. Terrace Drive Medical Center, with adult and pediatric specialties and six pediatricians and one pediatric nurse practitioner on staff. Plumb still practices at the East Side clinic and has served as its clinical dyad lead for pediatrics since 2000. In 2021, she became interim medical director of UW Health Urgent Care and Healthline.
Plumb began her pediatric career expecting to encounter diverse problems and intellectual challenges in her daily work. She found that to be completely true: there is always something new to learn from her many pediatric patients and their parents, always something that may require new knowledge and a new perspective. In addition, she has developed long relationships with many patients and parents.
"Over these 30 years, I've been able to watch so many of my patients grow up," Plumb noted. "Many I met as infants are now in college or starting their own families."
She says knowing the long-term medical history of families, firsthand, also makes her a better doctor. "The longitudinal aspect of pediatrics is something that I enjoy immensely," Plumb added.
Plumb also accomplished her goal of combining science and education in her medical career through her continuing service teaching medical students and residents in the UW School of Medicine and Public Health (SMPH). "I've taught every pediatric medical course there is for a primary care provider to teach to first- and second-year medical students, and I have followed cohorts of residents through their years of continuity clinic," Plumb said. In addition, she was the director of primary care education and the continuity clinic director from 1995 to 2004.
The changing nature of the COVID-19 public health emergency shifted how Plumb and her staff work. While there was not a crush of pediatric patients during 2020-2021, the local and nationwide easing of restrictions in late 2022 has resulted in many children being newly exposed to respiratory diseases and becoming infected in alarming numbers. "There is flu, RSV, and some COVID now at rates we've never seen before," Plumb said. "We are jam-packed with patients."
Plumb says she and her team have experienced a thousand more patients per month at urgent care, and they are responding to many more daily calls, MyChart messages, and telemedicine visits from frantic new parents who've had no experience with infant diseases for the two years of the pandemic. "Their kids were just not exposed, but now, at daycares, schools, and everywhere among the unmasked public, they are exposed, and they do get sick," Plumb explained. "We are swamped; pediatric hospitals across the country are becoming overwhelmed."
But Plumb and her staff at UW Health E. Terrace Drive Medical Center are meeting the challenges as they arise. "East clinic has an amazing set of staff people and clinical providers," Plumb said, "and I feel super lucky to be a part of that team. We are a very close knit group — we have excellent team practice. It's a totally amazing place to work."
Throughout her long career, Plumb has been able to work in many challenging and diverse positions with patients and students. "I am really grateful for the opportunities I've had here, the teaching and clinical work," she said. "After 30 years in this position, people — family, friends, colleagues — ask me, What are you going to do? I don't have an exit strategy yet. I really enjoy what I do. I think my current urgent care work may be the last big thing I do, but I haven't taken any steps toward the exit door yet."