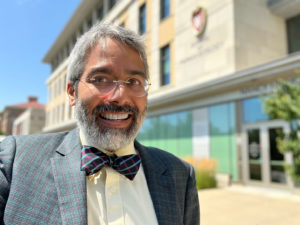 President Joe Biden selected Dipesh Navsaria, MPH, MSLIS, MD, as one of 11 new members to serve on the National Museum and Library Services Board. The associate professor in the Division of General Pediatrics and Adolescent Medicine also holds a joint appointment in the School of Human Ecology and an affiliate faculty position in the iSchool.
Navsaria noted that he may be the only pediatrician who also holds a degree in children's librarianship. He has a broad perspective on children's health and well-being and also understands the world of libraries.
"Libraries and museums nourish the minds of children, adolescents, and adults throughout their lives," Navsaria said. "I'm thrilled to play some part in the guidance and stewardship of these extraordinary and essential institutions."
Navsaria will serve a 5-year term. Amy Gilman, PhD, director of the Chazen Museum of Art, was also appointed the board.
The National Museum and Library Services Board advises the agency on general policies with respect to the duties, powers, and authority of the Institute of Museum and Library Services (IMLS) relating to museum, library, and information services. It is also involved in the annual selection of National Medal for Museum and Library Service recipients.
"One of the best ways to allow our nation's children to flourish is to immerse them in environments that stimulate, engage, and delight," Navsaria explained. "Parents and caregivers are the most important influences in that regard, but when we can offer families spaces and people to support and encourage that role, it's more likely to happen."
The White House press release included a précis of the unique background and strengths Navsaria brings to the position:
Dipesh Navsaria, M.P.H., M.S.L.I.S., M.D. is a pediatrician working in the public interest. He blends the roles of physician, occasional children's librarian, educator, public health professional, and child health advocate. With graduate degrees in public health, children's librarianship, physician assistant studies, and medicine, he brings together a combination of interests and experience. He is an associate professor of pediatrics at the School of Medicine and Public Health, as well as a clinical associate professor of Human Development and Family Studies at the School of Human Ecology, both at the University of Wisconsin–Madison. He has practiced primary care pediatrics in a variety of settings with special interest in underserved populations and continues to practice in outpatient settings.  He also works regionally and nationally with Reach Out and Read and the American Academy of Pediatrics.
Committed to understanding how basic science can translate into busy primary-care settings via population health concepts and policy initiatives and also be incorporated into transdisciplinary approaches across multiple sectors and schools of thought, Navsaria aims to educate the next generation of those who work with children and families in realizing how their professional roles include being involved in larger concepts of social policy and how they may affect the cognitive and socioemotional development of children for their future benefit.  The various ways in which we can influence the environment around children and families — from the very micro to the most macro — to ensure they can flourish and thrive is at the heart of what he does.