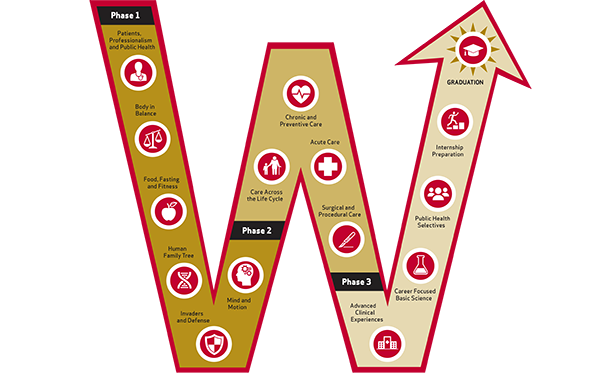 Eighteen Department of Pediatrics faculty are playing key roles in the UW School of Medicine and Public Health's (SMPH) MD curriculum transformation, a multi-year initiative that, starting in August 2017, will provide medical students with a more integrated learning experience and better prepare them to improve health for patients and populations in the 21st-century.
The Model: Phases, Blocks, Threads and Teacher/Coaches
Pediatrics medical student education director Kirstin Nackers, MD, explained that the new SMPH curriculum, The FORWARD Curriculum, comprises three phases:
Phase 1 centers on learning basic science concepts with integration of clinical and public health experiences.
Phase 2 emphasizes clinical medicine and integrates relevant longitudinal basic science and public health curricular elements.
Phase 3 focuses on specialty-specific competency development and internship preparation with integration of advanced public health and basic science concepts through selectives and electives.
The three phases replace the traditional "2+2" model of medical student education, in which students completed two years of basic-science education followed by two years of clinical experiences.
Within each phase, competency-based curricular content is organized around integrated, thematic "blocks." For example, the Phase 1 block "The Human Family Tree" (led by Gregory Rice, MD) incorporates molecular biology, genetics, embryology, childhood, reproductive endocrinology, pregnancy, aging and neoplasia. The Phase 2 clinical block "Care Across the Life Cycle" (led by Dr. Nackers) includes pediatrics, women's health and geriatrics—emphasizing working with caregivers and providing care for vulnerable populations.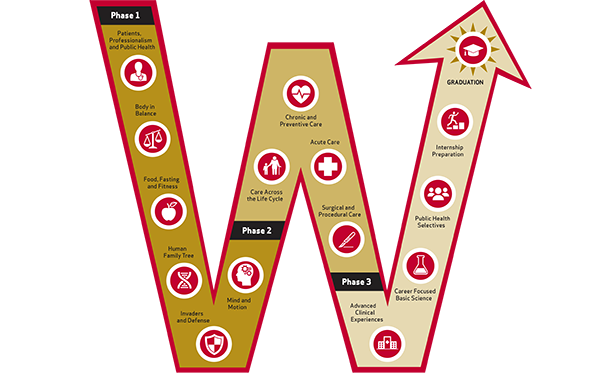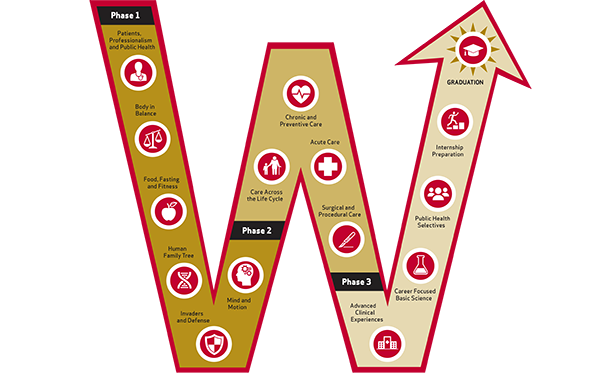 "The new model is an intentional effort to better integrate basic science and clinical medicine throughout all three phases," Dr. Nackers noted. "It also formalizes some of the 'hidden' curriculum—topics like public health and interpersonal and communication skills—into longitudinal threads. You need those skills to be a doctor, and we trust and observe that students are picking them up during their training, but we want to be deliberate about teaching them to all students and explicitly assessing them."
In addition, The FORWARD Curriculum weaves in longitudinal teacher/coaches: faculty who will mentor small cohorts of students throughout all four years of their education.
"In small groups, we can embrace our thought processes on how we work with patients and families," explained Dipesh Navsaria, MPH, MSLIS, MD, who will serve as a teacher/coach. "We can also encourage students to self-reflect on their learning needs, which prepares them for independent practice. Finally, we can build trust and teamwork, which are priorities in health care."
Phase 1 of the new curriculum will roll out in August with the incoming class of medical students. Phase 2 will begin in January 2018, during that class's second year.
Thanks to the following Department of Pediatrics faculty for their work on the MD curriculum transformation:
Steering Committee
Anna Huttenlocher, MD
Gwen McIntosh, MD, MPH
Elizabeth Petty, MD
Working Groups
Elizabeth Cox, MD, PhD (systems-based practice)
John Frohna, MD (milestones)
Troy Kleist, MD (lifelong learning)
Longitudinal Teacher/Coaches
Eileen Cowan, MD
Troy Kleist, MD
Dipesh Navsaria, MPH, MSLIS, MD
Amy Plumb, MD
Thread Authors
Dipesh Navsaria, MPH, MSLIS, MD (advocacy)
Gwen McIntosh, MD, MPH (professionalism and lifelong learning)
Phase 1 and 2 Integrated Block Leaders and Design Team Members
Phase 1: Body In Balance
Phase 1: Human Family Tree

Gregory Rice, MD (leader)
Ashley Kuhl, CGC
Dave Wargowski, MD

Phase 2: Care Across the Life Cycle

Kirstin Nackers, MD (leader)
Casey Reiser, MS, CGC
Lydia Wraight, MD
Eileen Cowan, MD
Phase 3 Activities
Grant Syverson, MD (intern prep course design team member)
Carol Diamond, MD (acting Internship working group)
SMPH Curriculum Transformation website
Benefits for Students
Dr. Nackers believes that the transformation will benefit students in several ways.
First, the integrated block model organizes curricular content more efficiently, so students can see more clearly how they might apply a particular concept to various clinical scenarios or specialties. This may help them arrive at a specialty decision sooner, which is important for choosing electives, completing specialty-recommended rotations and gaining an edge for residency selection.
Second, the new curriculum incorporates improved competency-based assessment methods, which strengthens collaboration between educators and better prepares students for the educational milestones required in residency.
Finally, the new curriculum will offer more interprofessional and team-based learning opportunities, enabling future doctors to work effectively in complex health care systems and communities.
'Laudable Contributions' from Pediatrics Leaders
"I am excited that we are launching a highly innovative, integrated curriculum, The FORWARD Curriculum, at the School of Medicine and Public Health," noted Senior Associate Dean of Academic Affairs Elizabeth Petty, MD.
"It has been thoughtfully crafted with the input of multiple stakeholders—from nationally recognized educational leaders to engaged students and staff—over the past four and a half years to better address the educational needs of future physicians who must help transform our future health care delivery systems, advance health equity, and optimize health for individuals and communities," she reflected.
"I believe it will position our graduates exceptionally well to become outstanding residents and, importantly, highly competent and compassionate physicians of the future who will positively impact the landscape of medicine and public health," she continued.
"I am thrilled that many of our top educational leaders in Pediatrics have already made laudable contributions to the development of The FORWARD Curriculum and am deeply appreciative that several will continue to provide their expertise and talent as leaders within it."