Department of Pediatrics residents are now able to experience rural practice during their residency, thanks to a new elective rotation funded by the Wisconsin Rural Physician Residency Assistance Program (WRPRAP).
The rotation consists of two four-week "immersion" sessions in the PG2 and PG3 years, precepted by community pediatricians in Baraboo, Beaver Dam, Portage and Sauk City.
During the sessions, residents will see a full patient panel in clinic, and accompany the supervising physician in community hospital duties, such as attending high-risk deliveries, newborn nursery and inpatient pediatrics.
A Desire for Rural Experiences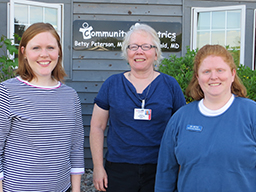 Kathleen DeSantes, MD, along with Residency Director John Frohna, MD, developed the rotation in response to resident needs.
"At last spring's resident retreat, I held a breakout session with residents interested in general pediatrics," Dr. DeSantes explained. "All of them—and especially those planning to enter rural practice—expressed a desire for training experiences outside of Madison."
In a rural practice, pediatricians have less access to the specialized diagnostic testing, pediatric subspecialists and tertiary pediatric hospital care readily available in a larger city like Madison. Instead, they must be able to accurately assess, diagnose and manage children using community resources.
'More Quickly Than Anyone Expected'
With the assistance of WRPRAP staff, and the support of several community pediatricians, Dr. DeSantes secured $27,000 in funding to launch the rotation.
The sites and preceptors are:
Baraboo: Ho-Chunk Nation House of Wellness (preceptor: Karen Ailsworth, MD)
Beaver Dam: Community Pediatrics (preceptors: Elizabeth Peterson, MD, and Jay Miesfeld, MD, soon to be joined by Jessie Miesfeld, MD)
Portage: Divine Savior Healthcare (preceptor: Angela O'Connor, MD)
Sauk City: Prairie Clinic (preceptors: Carrie Rank, MD, and Beatrice Murray, MD)
(Dr. Peterson, Dr. Jessie Miesfeld, and Dr. Rank all completed their pediatrics residency at UW.)
"The rotation came together more quickly than anyone expected," Dr. DeSantes said. PG2 Samantha Schultz, MD, is training in Portage in June, and will rotate through Sauk City in her third year.
Gena Cooper, MD, and Emilie Korn, MD, both PG1s, will rotate through Beaver Dam later this year, and Baraboo in their third year. (Dr. Cooper is also a graduate of the Wisconsin Academy for Rural Medicine, the UW School of Medicine and Public Health's rural education program for MD students.)
In the future, Dr. DeSantes would like to expand the rotations to towns even farther away, so residents can live in a community instead of commuting to it.
"But this is a great start," she said. "We want our residency program to respond to what residents need, and we were very fortunate to have this opportunity to give them what they were asking for."
---
Special thanks to:
The volunteer preceptors, without whom these rotations would not be possible.
The WRPRAP team for their support during the grant application process.
Established by the state legislature in 2010 and administered by the UW Department of Family Medicine, WRPRAP collaborates with rural health advocates, clinicians, and educators throughout Wisconsin to stimulate and sustain resident education in rural medicine.