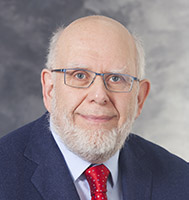 Imagine if physicians were able to use the information in your genetic profile to better predict your risk of disease, more accurately diagnose new diseases and provide customized treatments.
That's the potential of precision medicine, an emerging approach to disease prevention and treatment that takes into account individual variability in genes, environment and lifestyle.
Last summer, the University of Wisconsin School of Medicine and Public Health (SMPH) named Stephen Meyn, MD, PhD, a pediatrician and international expert in medical genomics research, to direct its new Center for Human Genomics and Precision Medicine as part of its plans to build a state-of-the-art precision medicine and genomics center.
At a December 2017 Department of Pediatrics Grand Rounds, Dr. Meyn talked more in-depth about the potential of precision medicine, his experiences in this emerging field and what he envisions for the future at the new SMPH center.
Experience Leading Clinical Genomics Research
Before coming to UW, Dr. Meyn was a professor in the Departments of Molecular Genetics and Paediatrics at the University of Toronto, and the co-leader of the SickKids Genome Clinic Project, a "test bed" for clinical research in medical genomics, at the affiliated Hospital for Sick Children.
He explained that through clinical exome and genomic sequencing, it's now possible to identify many of the genetic variations likely to cause disease. With this knowledge, scientists may be better able to accurately diagnose a specific or rare disease, identify whether a person carries a disease (even if they don't have symptoms), establish population-based screening panels and adjust therapy or patient management strategies for more precise treatment.
In the SickKids Genome Clinic Project, investigators are comparing whole-genome sequencing (WGS) to other forms of genetic testing in four unique cohorts of children suspected to have a genetic disorder. In one cohort, they found that 41% of children who received WGS testing were diagnosed with a genetic disorder, compared to 24% of children who received conventional targeted testing.
However, this new method of testing raises an ethical question: if WGS identifies genetic variants in a child that point to an unrelated disease or future health risk, should information about these predictive variants be disclosed to the child and family?
Although no clear consensus exists regarding clinical testing and disclosure of predictive variants, Dr. Meyn said that, as a research project, the SickKids Genome Clinic discloses genetic variants that predict abnormal drug responses or childhood diseases. Parents also can choose whether to receive information about the risk of adult-onset disease and carrier status for both their child and themselves. This strategy enables the Genome Clinic project to study the benefits and risks of the disclosure of predictive variants to parents.
Flagship Programs in Undiagnosed Diseases and Oncology
Here at the SMPH, Dr. Meyn is developing the new Center's strategic vision and guiding the creation of its clinical and academic programs.
The Center's first flagship activity will be an undiagnosed diseases program for rare genetic diseases. Although these diseases affect more than 450,000 Wisconsinites, fewer than half of children thought to have a genetic disorder currently are given a definitive molecular diagnosis, in part because there are still several thousand disease genes yet to be discovered.
Dr. Meyn envisions a gene discovery-oriented undiagnosed diseases program in which clinicians across Wisconsin work together with UW scientists to diagnosis more children, discover new disease genes, improve our understanding of the relationships between genomic variants and disease, and share their discoveries through international databases.
Another major focus for the new Center will be precision oncology. Noting that genomic-sequencing-based analyses suggest treatment strategies in 30 to 50 percent of cancer tumors, and identify familial cancer risks in 10 to 15 percent of cancer patients, Dr. Meyn sees the Center for Genomics and Precision Medicine working closely with the Carbone Cancer Center to broaden the scope of UW's molecular tumor board to include a wider range of cancers, more comprehensive analyses, and more pediatric cancer patients.
He expects that these efforts will result in increased enrollment of patients in precision medicine-oriented clinical trials. Dr. Meyn also anticipates partnering with the Cancer Center and UW academic departments to expand research in cancer genomics at UW.
Although he has only been on campus a short time, Dr. Meyn has been struck by how strong the local interest is in precision medicine. "From clinicians to basic scientists, everyone I've met has been eager to become involved in the Center's activities," he noted.
"Take this enthusiasm and combine it with the outstanding depth and breadth of our scientific and clinical communities and we have all the ingredients needed to build a world-class human genomics program that will push the field forward and lead the way in bringing the benefits of precision medicine to the people of Wisconsin."