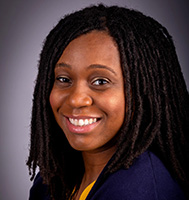 Education
BS, Marquette University, Milwaukee, Wisconsin 
MD, University of Wisconsin School of Medicine and Public Health, Madison, Wisconsin 
Residency, Pediatrics, University of Wisconsin, Madison, Wisconsin 
MPH, University of Wisconsin School of Medicine and Public Health, Madison, Wisconsin 
Residency, Preventive Medicine and Public Health, University of Wisconsin, Madison, Wisconsin
Professional Activities
Dr. Jasmine Zapata is assistant professor (CHS) in the Division of Neonatology and Newborn Nursery. She engages in various scholarly activities aimed at increasing diversity in medicine and promoting health equity at the University of Wisconsin School of Medicine and Public Health. Locally, she serves as the chief medical officer and state epidemiologist for community health within the Bureau of Community Health Promotion at the Wisconsin Department of Health. In this role, she provides expert guidance for a variety of public health promotion, planning, and policy efforts. Additionally, Zapata is co-chair of the Wisconsin Maternal Mortality Review Team and recently served as co-chair of the Governor's Health Equity Council Subcommittee on power, access, and representation. Zapata's many lived experiences help her uniquely connect with the communities she serves, and she is well known for her infectious energy, passionate advocacy, and heart for service. 
Zapata has an affiliate appointment in the Department of Population Health Sciences. 
Clinical Interests
Zapata is a newborn nursery hospitalist specializing in the fields of pediatrics and preventive medicine.  
Research Interests
Zapata's research aims to combat racial inequities in maternal mortality and adverse birth outcomes.