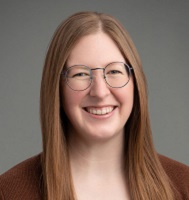 Education
BS, University of Wisconsin-Madison, Madison, Wisconsin 
MD, University of Wisconsin School of Medicine and Public Health, Madison, Wisconsin 
Residency, Pediatrics, Nationwide Children's Hospital, Ohio State University, Columbus, Ohio 
Chief Residency, Pediatrics, Nationwide Children's Hospital, Ohio State University, Columbus, Ohio
Professional Activities
Dr. Megan Yanny is assistant professor (CHS) in the Division of General Pediatrics and Adolescent Medicine. She is interested medical education, advocacy, and their intersection. Yanny engages in the pediatric residency program as the Community Pediatrics and Advocacy Experience (CPAX) rotation director and a CORE Mentor.  
Clinical Interests
Yanny is a general pediatrician whose clinical interests include advocacy and social determinants of health, child abuse, mental health, and vaccines. 
Research Interests
Yanny's research interests involve medical education research, including program improvement and advocacy research. She works on survey projects regarding child abuse residency education and attire in the medical field. In the future, Yanny intends to engage in researching medical curriculum design, other work within advocacy, and mental health or preventative care.