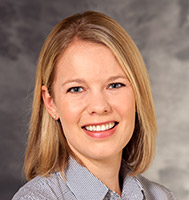 Education
BS, University of Iowa, Iowa City, Iowa
MD, University of Iowa School of Medicine, Iowa City, Iowa
Residency, Pediatrics, Riley Hospital for Children at Indiana University, Bloomington, Indiana
Chief Residency, Pediatrics, Riley Hospital for Children at Indiana University, Bloomington, Indiana
Professional Activities
Dr. Kristin Tiedt is assistant professor (CHS) in the Division of Hospital Medicine. Tiedt participates in a national collaborative aimed at developing standardized approaches to pediatric procedural sedation education across subspecialties. She is also interested in using a multidisciplinary approach to deliver safe and effective care for hospitalized children.
Clinical Interests
Tiedt spends her clinical time providing care for hospitalized children at the American Family Children's Hospital (AFCH) and St. Mary's Hospitals. She also provides sedation services at the AFCH's Diagnostic and Therapy Center where she also serves as the director of sedation education.
Research Interests
Tiedt's professional interests focus on improving the care of children receiving procedural sedation.