Daniel (Dan) Sklansky, MD
Position title: Associate Professor, Residency Program Director
Address:
Division of Hospital Medicine
For Academic Inquiries: (608) 265-5445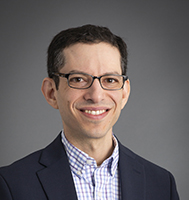 Education
BS, University of Wisconsin–Madison, Madison, Wisconsin
MD, University of Wisconsin School of Medicine and Public Health, Madison, Wisconsin
Residency, Pediatrics, Johns Hopkins Hospital, Baltimore, Maryland
Fellowship, Pediatric Hospital Medicine, Hospital for the Sick Children, Toronto, Ontario
Professional Activities
Dr. Daniel (Dan) Sklansky is associate professor (CHS) in the Division of Hospital Medicine and the director of the pediatric residency program. He is active in the Association of Pediatric Program Directors, where he has served as co-chair of the Associate Program Director Special Interest Group, chair of the Midwest Region, member of the program director executive council, and member of numerous longitudinal workgroups and committees. Sklansky has won several teaching awards from both students and residents; he was selected to participate in the UW Health Physician Leadership Development program in 2019-2021.
Clinical Interests
Sklansky's clinical interests involve common conditions in hospitalized children.
Research Interests
Sklansky's academic interests include medical education, specifically related to learner assessment. He enjoys collaborating with national and local colleagues on educational and clinical research endeavors, especially related to learner assessment through clinical competency committees, the residency application process, and examining clinical datasets for patterns in patient populations.