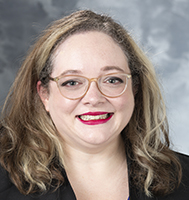 Education
BA, Denison University, Granville, Ohio
MD, University of Wisconsin School of Medicine and Public Health, Madison, Wisconsin
MPH, University of Wisconsin School of Medicine and Public Health, Madison, Wisconsin
Residency, Pediatric, University of Minnesota, Minneapolis, Minnesota
Fellowship, Adolescent Medicine, Seattle Children's Hospital, Seattle, Washington
Leadership Education in Adolescent Health (LEAH), University of Washington, Seattle, Washington
Professional Activities
Dr. Selkie is assistant professor on the tenure track in the Division of General Pediatrics and Adolescent Medicine and the director of Pediatric Fellowship Programs in the Department of Pediatrics. She also serves as the adolescent medicine provider for the Pediatric and Adolescent Transgender Health (PATH) Clinic in the American Family Children's Hospital in Madison, Wisconsin. Finally, she is the medical director and staff physician at the Dane County Juvenile Detention Center in Madison, Wisconsin.
Clinical Interests
Selkie's main clinical foci are on adolescent patients' sexuality and gender concerns, inpatient management of eating disorders, and the care of justice-involved youth. Her clinical and research efforts overlap in that her patients frequently use social media investigating information about sexuality and gender, as well as connecting with peers regarding those areas.
Research Interests
The LMFAO research group seeks to identify ways to promote well-being for adolescents and young adults while they are using technology and digital media. The group's work uses a positive youth development lens to examine how technology and digital media relate to socioemotional well-being.