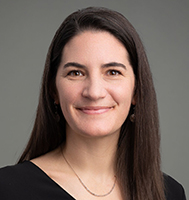 Education
BS, Ashland University, Ashland, Ohio   
PhD, Oregon Health and Science University, Portland, Oregon  
MD, Oregon Health and Science University, Portland, Oregon  
Residency, Pediatrics, Seattle Children's Hospital, University of Washington, Seattle, Washington 
Fellowship, Pediatric Hematology and Oncology, Stanford University, Stanford, California 
Professional Activities
Dr. Rebecca (Becky) Richards is a tenure track assistant professor and physician-scientist in the Division of Hematology, Oncology, and Bone Marrow Transplant. She has received multiple career development awards for her work developing chimeric antigen receptor (CAR) T cells for treatment of acute myeloid leukemia (AML), including a K08 from the National Cancer Institute, American Society of Hematology Scholar Award, and a St. Baldrick's Foundation Fellow Award. Richards serves on the St. Baldrick's Foundation Empowering Pediatric Immunotherapies for Childhood Cancers (EPICC) team. She is also a member of multiple nationwide consortia focused on advancing immunotherapy for pediatric cancer. 
Clinical Interests
Richards treats patients with blood disorders and all types of cancers. Her particular focus is on leukemia and immunotherapy, including CAR T cells. Richards is a member of the Department of Pediatrics bone marrow transplant and cell therapy team. 
Research Interests
The overarching goal of the Richards Lab is to develop CAR T-cell therapies to cure pediatric cancers. CD19 CAR T cells have revolutionized therapy for patients with high-risk B cell malignancies, but CAR T-cell therapy has been slower to advance for patients with myeloid malignancies, including acute myeloid leukemia (AML). The Richards Lab focuses on overcoming some of the primary obstacles to success for CAR T-cell therapy in AML, including tumor heterogeneity and shared expression of target antigens on cancer cells and healthy cells. Richards' team uses synthetic biology to engineer next-generation CAR T cells with a particular focus on target antigen selection, modular CAR design, and immune receptor signaling.