The overarching goal of the Richards Lab is to develop chimeric antigen receptor (CAR) T-cell therapies to cure pediatric cancers.
CD19 CAR T cells have revolutionized therapy for patients with high-risk B cell malignancies, but CAR T-cell therapy has been slower to advance for patients with myeloid malignancies, including acute myeloid leukemia (AML). The Richards Lab focuses on overcoming some of the primary obstacles to success for CAR T-cell therapy in AML, including tumor heterogeneity and shared expression of target antigens on cancer cells and healthy cells. We use synthetic biology to engineer next-generation CAR T cells with a particular focus on target antigen selection, modular CAR design, and immune receptor signaling.
Scientific Approach
Previous work demonstrated that CD93 CAR T cells effectively kill AML but have the risk of toxicity to endothelial cells due to shared antigen expression on this essential normal tissue. Engineering a second inhibitory receptor into the same CD93 CAR T cells allowed them to discriminate between tumor and healthy cells in an example of a "NOT-gate" strategy (Richards et al., Blood Cancer Discovery, 2021).
Using bioengineering and gene-editing approaches, we aim to endow CAR T cells with synthetic receptor "circuits" that increase their discriminatory capacity to kill cancer cells but to spare healthy cells. High-dimensional proteomic approaches will be employed to define key intrinsic T cell signaling mechanisms, which will feed back into iterative improvements in CAR design. Optimal target antigens on tumor and normal tissue will be identified through high-dimensional transcriptomic and proteomic analyses of experimental and patient samples. Collectively, our work will allow for development of CAR T-cell therapy against higher-risk target antigens, which will extend the reach of this powerful type of immunotherapy to more cancer patients.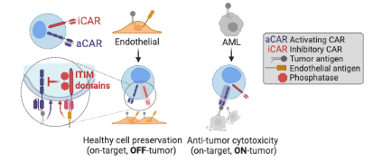 Additional Research Activities
Basic, translational, and clinical research of pediatric cancers
Adoptive cell therapies (NK cell and CAR T cell infusions)
Preclinical models of acute myeloid leukemia
Tumor intrinsic resistance mechanisms to immunotherapy
Research Opportunities – Graduate Students
For students interested in obtaining a Ph.D., Dr. Richards is a trainer for the Cellular and Molecular Biology (CMB) Program and Cellular and Molecular Pathology Program. For more information, please click on the link for each program above.
Research Opportunities – Postdoctoral Fellows
Interested applicants with experience in cellular immunology, cancer biology, or biomedical engineering may send a cover letter, CV, and e-mails for 3 references to rmrichards3@wisc.edu for consideration.
Research News
UW School of Medicine and Public Health student Jessica Kain received the 2023 Hematology Opportunities for the Next Generation of Research Scientists (HONORS) Award from the American Society of Hematology (ASH). Kain is a researcher …

June 23, 2023