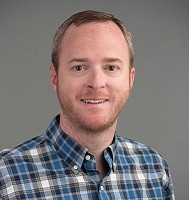 Education
BA, University of Florida, Gainesville, Florida
MD, University of Virginia School of Medicine, Charlottesville, Virginia
Residency, Pediatrics, University of Virginia Medical Center, Charlottesville, Virginia
Fellowship, Pediatric Gastroenterology, Cardinal Glennon Children's Medical Center, St. Louis, Missouri
Professional Activities
Dr. Thomas Ratchford is assistant professor (CHS) in the Division of Gastroenterology, Hepatology, and Nutrition. In addition, he is the course director of the pediatric gastroenterology clinical rotation.
Clinical Interests
Ratchford is a pediatric gastroenterologist who treats a multitude of gastrointestinal diseases in children. His clinical interests include general gastroenterology, aerodigestive disorders, and feeding and swallowing disorders. He participates in two multidisciplinary clinics at American Family Children's Hospital: the Pediatric Aerodigestive Clinic and the Pediatric Feeding Intervention Clinic.
Research Interests
Ratchford participates in clinical research projects regarding pediatric gastroesophageal reflux, pediatric nasogastric tube outcomes, and patients with aerodigestive and feeding or swallowing disorders.