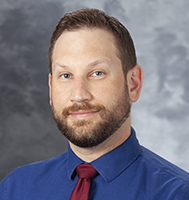 Education
BS, University of Illinois, Urbana, Illinois
MS, University of Wisconsin­–Madison, Madison, Wisconsin
DO, Arizona College of Osteopathic Medicine, Midwestern University, Glendale, Arizona
Residency, University of Wisconsin, Madison, Wisconsin
Fellowship, Pediatric Hematology and Oncology, University of Wisconsin, Madison, Wisconsin
Fellowship, Pediatric Neuro-Oncology, St. Jude Children's Research Hospital, Memphis, Tennessee
Professional Activities
Dr. Nicholas Pytel is assistant professor (CHS) in the Division of Hematology, Oncology, and Bone Marrow Transplant. He is involved in the Society of Neuro-Oncology, the International Symposium on Pediatric Neurology-Oncology, and the American Society of Pediatric Hematology/Oncology. He has attended and presented research at these conferences. Pytel is also involved with the Section on Advances in Therapeutics and Technology within the American Academy of Pediatrics.
Clinical Interests
Pytel has a special interest in pediatric brain tumors as well as the quality of life issues these patients face. He is involved in the Pediatric Neuro-Oncology and Pediatric Neurocutaneous Disorders multidisciplinary clinics at the American Family Children's Hospital.
Research Interests
Pytel's research interests involve pediatric central nervous system (CNS) tumors and issues those patients face.