Amy Peterson, MD, MS
Position title: Professor
Address:
Division of Cardiology
For Academic Inquiries: (608) 265-2236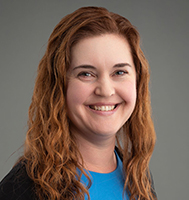 Education
BS, University of Wisconsin–Madison, Madison, Wisconsin
MD, University of Wisconsin School of Medicine and Public Health, Madison, Wisconsin
Residency, Pediatrics, Children's Hospital of Wisconsin, Milwaukee, Wisconsin
Fellowship, Pediatric Cardiology, Children's Hospital of Philadelphia, Philadelphia, Pennsylvania
MS, University of Wisconsin School of Medicine and Public Health, Madison, Wisconsin
Professional Activities
Dr. Amy Peterson is professor (CHS) in the Division of Cardiology. She serves on national committees for the American Academy of Pediatrics, the American Heart Association, and the National Lipid Association, and is proud to serve on the Scientific Advisory Board for the Family Heart Foundation. She was awarded the 2021 UW Health Physician Excellence Award for Regional Services. Peterson founded and directs the Pediatric Preventive Cardiology Clinic, where she and her team treat children with risk factors for premature heart disease, particularly cholesterol disorders. In addition, Peterson has co-authored over 25 peer reviewed manuscripts on diagnosis and management of pediatric cholesterol disorders.
Clinical Interests
Peterson is a pediatric cardiologist and clinical lipidologist committed to providing family-centered care addressing both patients with congenital conditions and those requiring preventative care, as well as improving access to these services. 
Research Interests
Peterson's research focuses on the implementation of universal pediatric cholesterol screening and incorporation of novel screening techniques to improve diagnosis of genetic dyslipidemias, particularly familial hypercholesterolemia. Her research group also studies disparities affecting access to diagnosis and treatment of cholesterol disorders and other cardiometabolic risk factors in childhood.