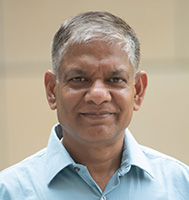 Education
MS, Sambalpur University, Odisha, India
M.Phil, University of Delhi, India
PhD, University of Delhi, India
Post-doctoral Fellowship, University of Louis Pasteur, Strasbourg, France
Post-doctoral Fellowship, University of Michigan, Ann Arbor, Michigan
Professional Activities
Dr. Bikash Pattnaik is a tenure track associate professor in the Division of Neonatology and Newborn Nursery with a joint appointment in the Department of Ophthalmology and Visual Sciences. He is deeply committed to addressing the challenges that affect young people's sight. Taking this passion further, he leads programs of learning and professional development for the Association for Research in Vision and Ophthalmology and the International Society for Eye Research. Pattnaik interacts with the larger UW community through his involvement in the leadership committee of McPherson Eye Research Institute. Additionally, he is a member of the university's Immigration and International Relations Committee, where he advocates for historically marginalized people. 
Clinical Interests
Pattnaik is the Clinical Director for Visual Electrophysiology with clinical interests in congenital eye diseases that affect the outer retina physiology and optic nerve visual impairments that lead to blindness in children. In addition, he treats visual impairment in children who survive hypoxic-ischemic encephalopathy (HIE). Pattnaik is an active member of the International Society for Clinical Electrophysiology of Vision (ISCEV) to adapt and evolve visual electrophysiology in clinical practice.
Research Interests
Pattnaik's research focuses on mutations in genes encoding ion channels that can alter retinal pigment epithelium and photoreceptor physiology. In addition, he is interested in breakthrough gene therapy to treat rare forms of congenital blindness and its clinical translation; suppression of nonsense mutations as a therapeutic approach for in-frame premature termination codons; and improving ocular therapeutic molecule delivery through non-invasive approaches.