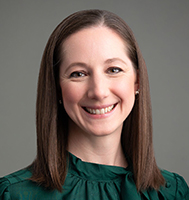 Education
BS, University of Illinois, Urbana-Champaign, Illinois 
MD, University of Loyola Chicago Stritch School of Medicine, Chicago, Illinois 
Residency, Pediatrics, Rush University Medical Center, Chicago, Illinois 
Chief Residency, Pediatrics, Rush University Medical Center, Chicago, Illinois 
Fellowship, Neonatal-Perinatal Medicine, University of Wisconsin, Madison, Wisconsin 
Professional Activities
Dr. Elizabeth McBride is assistant professor (CHS) in the Division of Neonatology and Newborn Nursery. As the director of the pediatric inpatient acting internship, she strives to foster interest in the field of pediatrics among medical students through mentorship in early career development, interpersonal communications skills, and critical thinking. Likewise, she develops enriching clinical education for NICU fellows in her role as the associate program director. In these ways, McBride aspires to promote the next generation of pediatricians and neonatologists. 
Clinical Interests
McBride is a neonatologist interested in improving family engagement in critical care settings. She serves as a physician champion on the UW Health Kids NICU Family Partnership Council; its mission is to integrate caregiver perspectives into NICU programs, research, and quality improvement projects. She collaborates with a multidisciplinary group focused on advocating for the use of human milk for all infants, but especially those born prematurely and with congenital or surgical conditions. 
Research Interests
McBride's research interests involve infant nutrition and feeding difficulties. She works with multidisciplinary teams to develop and implement thoughtful approaches to care for infants who require tube feeding support as they transition from the hospital to home. Her research group's critical evaluation of outcomes contributes to evidenced-based information that helps clinicians and families in shared decision-making.