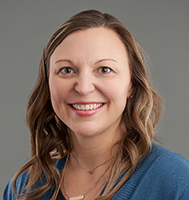 Education
BS, University of Wisconsin–Madison, Madison, Wisconsin 
MD, University of Wisconsin School of Medicine and Public Health, Madison, Wisconsin 
Residency, Pediatrics, University of Minnesota, Minneapolis, Minnesota 
Fellowship, Pediatric Diabetes and Endocrinology, University of Wisconsin, Madison, Wisconsin 
Professional Activities
Dr. Elizabeth Mann is assistant professor (CHS) in the Division of Endocrinology and Diabetes. Her academic interests include using quality improvement methods to close equity gaps and improve care for children, adolescents, and young adults living with diabetes.  
Clinical Interests
Mann's clinical interests include caring for youth and young adults with all types of diabetes. To improve outcomes for patients with type 1 diabetes, Mann is interested in promoting mental health resources as well as providing equitable access to diabetes technology. Additionally, she is the clinical lead for the pediatric type 2 diabetes program in which she focuses on providing patient-centered, collaborative, and tailored care for individuals living with type 2 diabetes. 
Research Interests
Mann is the local principal investigator for the T1D Exchange Quality Improvement Collaborative. In this role, she collaborates with other pediatric diabetes programs across the country to improve diabetes care and clinical outcomes for children living with type 1 diabetes. In addition, she regularly completes improvement work focusing on improving care and outcomes for pediatric type 2 diabetes populations.