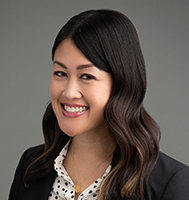 Education
BS, University of California San Diego, La Jolla, California
MD, Medical College of Wisconsin, Milwaukee, Wisconsin
Residency, Pediatrics, University of Southern California Medical Center, Los Angeles, California
Fellowship, Neonatology, University of Southern California Medical Center, Children's Hospital Los Angeles, Los Angeles, California
MS, Clinical Investigation and Translational Research, University of Wisconsin, Madison, Wisconsin
Master of Medical Management, Carnegie Mellon University, Pittsburgh, Pennsylvania
Professional Activities
Dr. Jamie Limjoco is associate professor (CHS) in the Division of Neonatology and Newborn Nursery and founding medical director of the Level IV NICU at American Family Children's Hospital (AFCH). In this role, Limjoco has helped develop over 50 guidelines, policies, and procedures regarding neonatal care for surgical and medically complex patients. She is also executive medical director of Pregnancy and Newborn Care at AFCH and works closely with maternal fetal medicine (MFM) colleagues and nursing leadership to increase pregnancy and neonatal services throughout the region. Limjoco leads the NICU Family Wellness Committee at AFCH, where she seeks to enhance the well-being of NICU families and providers through initiatives that improve communication and respect, particularly for racial minorities and non-English speaking families. Limjoco also contributed to the formation of the neonatal neurocritical care, telemedicine, and transport programs. She has instructed over 40 simulation classes related to both the Neonatal Resuscitation Program (NRP) and Pediatric Advanced Life Support (PALS) and continues to help with neonatal resuscitation training for the regional Level I and Level II nurseries. 
Clinical Interests
Limjoco is a neonatologist with clinical interests in the use of telemedicine and advanced technology to improve neonatal health outcomes. Her expertise is in amplitude integrated electroencephalography (aEEG), neurally adjusted ventilatory assist (NAVA), and heart rate characteristics (HeRO).  
Research Interests
Limjoco collaborates with neonatology experts at the Mayo Clinic on a multicenter project to improve resuscitation in community hospitals. Additionally, she is the physician champion for quality improvement (QI) initiatives, which include managing infants with post-operative pain, decreasing unplanned extubations, and improving standardized ventilatory management in the NICU.