Heidi Kloster, MD
Position title: Associate Professor, Associate Residency Program Director
Address:
Division of Hospital Medicine
For Academic Inquiries: (608) 265-5445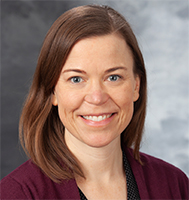 Education
BS, University of Wisconsin–Madison, Madison, Wisconsin
MD, University of Wisconsin School of Medicine and Public Health, Madison, Wisconsin
Residency, Pediatrics, University of California, San Francisco, Benioff Children's Hospital, Oakland, California
Chief Residency, Pediatrics, University of California, San Francisco, Benioff Children's Hospital, Oakland, California
Professional Activities
Dr. Heidi Kloster is associate professor (CHS) in the Division of Hospital Medicine and the Pediatric Complex Care program. She is also the associate program director within the Department of Pediatrics Residency Program. As an educator, she has held leadership roles in both undergraduate and graduate medical education and has conducted educational scholarship and curriculum development focused on burnout prevention and promotion of well-being of medical trainees.
Clinical Interests
Kloster's clinical focus is on the provision of high-quality care for children with medical complexity and partnering with families to improve their overall quality of life.
Research Interests
Kloster's academic endeavors focus on the evaluation of well-being in a variety of populations, particularly caregivers of children with medical complexity.