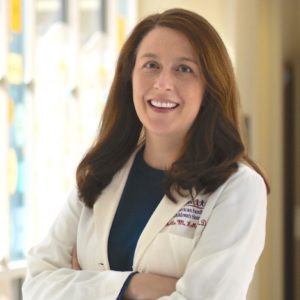 Education
BA, Washington University, St. Louis, Missouri
MD, Loyola Stritch School of Medicine, Maywood, Illinois
Residency, Categorical Pediatrics, St. Christopher's Hospital for Children, Philadelphia, Pennsylvania
MSc, University of Wisconsin–Madison, Madison, Wisconsin
PhD, Clinical Investigation, University of Wisconsin–Madison, Madison, Wisconsin
Professional Activities
Dr. Michelle Kelly is professor (CHS) and health services researcher in the Division of Hospital Medicine and Complex Care. Kelly is the inaugural deputy editor of Pediatrics Open Science, the American Academy of Pediatrics' premier open access journal. She has also served on the editorial boards for Hospital Pediatrics and the Journal of Hospital Medicine. In addition, Kelly serves on the council for the Pediatric Research in Inpatient Settings (PRIS) Network. In these leadership roles, she has enjoyed the opportunity to learn from others and provide mentorship and sponsorship to clinicians and trainees pursuing research that improves the lives of children and their families.
Clinical Interests
Kelly is a pediatric hospitalist working to improve pediatric care by enhancing partnerships between patients, families, and their healthcare team.
Research Interests
Kelly's research focuses on leveraging the voices of families to improve the quality and safety of care for children – particularly in the hospital setting. Her team develops and tests tools that enhance health information transparency with the goal of improving patient and family engagement in care, care quality, and patient safety. Kelly's research program has been funded by the Agency for Healthcare Research and Quality and NIH. Her team's findings have been featured by the Children's Hospital Association and in the Washington Post.