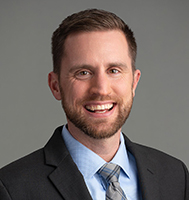 Education
BS, University of Wisconsin–Madison, Madison, Wisconsin
MD, University of Wisconsin School of Medicine and Public Health, Madison, Wisconsin
Residency, Pediatrics, University of Wisconsin, Madison, Wisconsin
Fellowship, Neonatology, University of Virginia, Charlottesville, Virginia
Professional Activities
Dr. Matthew W. Harer is associate professor (CHS) in the Division of Neonatology and Newborn Nursery. Locally, he leads the University of Wisconsin Renal Investigative Neonatal Network (URINN) group that focuses on neonatal kidney issues. Nationally, Harer is co-chair of the communications committee and a board member of the Neonatal Kidney Collaborative (NKC). He has served as a reviewer for more than five journals in the fields of neonatology and neonatal kidney topics. Additionally, Harer is the recipient of multiple Department of Pediatrics clinical educator awards, a Pediatric Research travel award, and NIH Loan Repayment awards. 
Clinical Interests
Harer enjoys taking care of all neonates who require admission to the NICU. He has developed guidelines for babies with prenatally diagnosed hydronephrosis and urinary tract infections, as well as those who require monitoring with near infrared spectroscopy (NIRS). 
Research Interests
Harer has nationally recognized expertise in neonatal acute kidney injury. He is the principal investigator of the Harer Research Group, where he performs clinical and translational studies aiming to improve the diagnosis of acute kidney injury. In this area, his group monitors renal oxygenation and is interested in the kidney protective effects of caffeine.