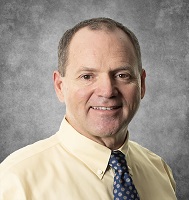 Education
BS, University of Florida, Gainesville, Florida
MD, University of South Florida, Tampa, Florida
Residency, Pediatrics, SUNY-Syracuse, Syracuse, New York
Chief Resident in Pediatrics, Tufts New England Medical Center, Boston, Massachusetts
Fellowship, Allergy and Immunology, Johns Hopkins University, Baltimore, Maryland
Professional Activities
Dr. James (Jim) Gern is tenured professor in the Division of Allergy, Immunology and Rheumatology and the vice chair for research in the Department of Pediatrics. He leads the NIH-supported Wisconsin Allergy Research Fellowship Training Program and has been elected to the American Pediatric Society, the American Association of Physicians, and the AOA Medical Honor Society. Gern has won a number of awards throughout his career including the Distinguished Physician Alumnus Award from the University of South Florida Morsani College of Medicine and the Distinguished Scientist Award from the American Academy of Allergy, Asthma and Immunology (AAAAI). He has served on the board of directors of the AAAAI and is the past chair of the American Board of Allergy and Immunology. 
Gern has an affiliate appointment in the Department of Medicine.  
Clinical Interests
Gern treats children with a variety of allergic diseases. He is particularly interested in evaluating and treating children with recurrent wheezing and asthma.
Research Interests
Gern's research group investigates the causes of childhood allergic diseases and asthma. His team uses birth cohort studies that measure early life exposures in different environments, including inner cities, suburban Madison, and Wisconsin farm country to define microbial exposure and colonization patterns. Through this work, the research team uses environmental exposures and measures of immune development to identify causative pathways. In 2016, Gern was awarded a grant as part of the NIH ECHO (Environmental influences on Child Health Outcomes) program to identify early life environmental factors that promote childhood asthma. These translational studies are extended by several mechanistic studies that investigate the molecular virology of rhinovirus-C and interactions between rhinoviruses, bacteria, and airway epithelial cells.