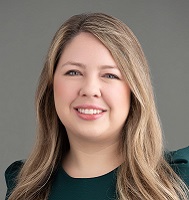 Education
BS, Indiana University, Bloomington, Indiana
DO, Kentucky College of Osteopathic Medicine, Pikeville, Kentucky
Internship, The Christ Hospital, Cincinnati, Ohio
Residency, Physical Medicine and Rehabilitation, Case Western Reserve University, MetroHealth Medical Center, Cleveland, Ohio
Fellowship, Pediatric Physical Medicine and Rehabilitation, Baylor College of Medicine, Texas Children's Hospital, Houston, Texas
Professional Activities
Dr. Lauren Fetsko is assistant professor (CHS) in the Division of Developmental Pediatrics and Rehabilitation Medicine. As a pediatric subspecialty physician informaticist on the medical informatics team, she supports the use, implementation, and evaluation of health information technology at UW Health. Fetsko is a member of several additional committees at UW Health, including the advocacy advisory committee and the inpatient rehabilitation subcommittee at American Family Children's Hospital. Nationally, she works with the American Academy of Cerebral Palsy and Developmental Medicine (AACPDM) and serves on its advocacy committee. 
Clinical Interests
Fetsko strives to provide patient and family–centered care, with a focus on patient and family education. She has clinical interests in childhood-onset conditions, including cerebral palsy, spina bifida, spinal cord injury, acquired brain injury, and acquired limb deficiencies. 
Research Interests
Fetsko's research interests focus on quality improvement for inpatient and outpatient practices with an emphasis on electronic medical record systems.