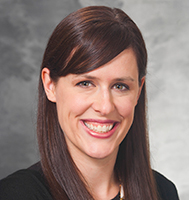 Education
BS, University of Illinois at Urbana-Champaign, Champaign, Illinois
MD, Loyola University Chicago Stritch School of Medicine, Maywood, Illinois
Residency, Pediatrics, University of Michigan, Ann Arbor, Michigan
Fellowship, Neonatal-Perinatal Medicine, Harvard University, Boston Children's Hospital, Boston, Massachusetts
Professional Activities
Dr. Eileen A. Cowan is associate professor (CHS) in the Division of Neonatology and Newborn Nursery. Currently, she serves as the pediatric pre-clerkship director in the Department of Pediatrics and as the NICU residency rotation director. In her pre-clerkship director position, Cowan is responsible for integrating pediatric content into the pre-clinical portion of the University of Wisconsin School of Medicine and Public Health's ForWard Curriculum and fostering student interest in pediatrics during medical school. Nationally, Cowan participates in the Association of American Medical Colleges (AAMC) Council of Faculty and Academic Societies (CFAS) as a representative.  
Clinical Interests
Cowan is a neonatologist interested in improving patient outcomes with the use of point-of-care ultrasound (POCUS), providing support to families in need, and investigating the impact of education on clinical care and trainee competency.
Research Interests
Cowan's research focuses on medical education as well as point-of-care ultrasound (POCUS) in NICUs. She also leads projects aiming to enhance resident competency in neonatal core content and procedures. Moreover, Cowan investigates gender parity in American academic medical centers (AMCs). In this line of work, she also researches promotion and hiring practices at AMCs based on gender and academic track.