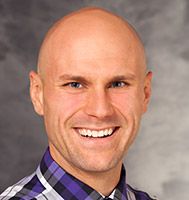 Education
BS, University of Wisconsin–La Crosse, La Crosse, Wisconsin
MD, University of Iowa Carver College of Medicine, Iowa City, Iowa
Residency, University of Wisconsin, Madison, Wisconsin
Fellowship, Neonatal-Perinatal Medicine, University of Wisconsin, Madison, Wisconsin
Professional Activities
Dr. Adam S. Bauer is assistant professor (CHS) in the Division of Neonatology and Newborn Nursery. As the pediatric residency associate program director, he oversees the curriculum for Pediatric Education and Active Resident Learning (PEARL) and social media outreach. Bauer believes that engagement in advocacy is essential for pediatricians. For example, he regularly collaborates with Vot-ER to help older pediatric patients and their families check their voter registration and register to vote if necessary.
Clinical Interests
Bauer is a neonatologist who provides high-quality care for premature and critically ill infants of all gestational ages. He is committed to ensuring that families understand what the medical team does around the time of birth to help support their babies. He is particularly interested in improving the care of neonates born with congenital heart disease. Within an interdisciplinary team, Bauer has improved the care of neonates prenatally diagnosed with concerns for coarctation of the aorta. This includes increased bonding time of these babies with their families. These efforts have decreased NICU admissions through a quality improvement project.
Research Interests
Bauer's research interests include medical education, simulation, and point of care ultrasound (POCUS). He is a principal investigator for numerous studies related to the Association of Pediatric Program Directors (APPD) Longitudinal Educational Assessment Research Network (LEARN). In the NICU, he collaborates with his colleagues to evaluate the safety of using POCUS in neonates. Additionally, he works within the UW Clinical Simulation Center and the University of Wisconsin Biomedical Engineering Department to create simulation trainer models to teach neonatal providers how to use POCUS to improve procedural skills for intervention, such as lumbar puncture, peripherally inserted central catheter placement, pericardiocentesis, and needle thoracentesis. He frequently works with neonatology fellows and pediatric residents to improve medical education in the NICU, procedural skills, and the teaching and use of POCUS.