Catherine C. Allen, MD
Position title: Assistant Professor
Address:
Division of Cardiology
600 Highland Avenue, Madison, WI 53792-4108
For Academic Inquiries: (608) 262-5024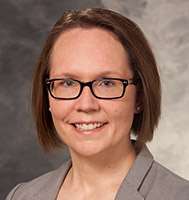 Education
BS, York College of Pennsylvania, York, Pennsylvania
MD, Sanford School of Medicine, University of South Dakota, Sioux Falls, South Dakota Residency, A.I. DuPont Children's Hospital, Wilmington, Delaware
Fellowship, Pediatric Cardiology, Cincinnati Children's Hospital Medical Center, Cincinnati, Ohio
Fellowship, Advanced Non-Invasive Imaging, Cincinnati Children's Hospital Medical Center, Cincinnati, Ohio 
Professional Activities
Dr. Catherine C. Allen is an assistant professor (CHS) in the Division of Cardiology. She serves as the director of the Pediatric Echocardiography Lab. She serves as a steering committee member of the Congenital Heart Program Quality and Safety Oversight team. 
Clinical Interests
Allen is a pediatric cardiologist with interests in fetal and congenital cardiology and cardiac imaging. 
Research Interests
Allen's research interests include quality improvement for fetal and congenital cardiologic care. She is committed to promoting adolescent health education and facilitating the transition of this patient population to adult health care.