Awni Al-Subu, MD
Position title: Associate Professor
Address:
Division of Critical Care
For Academic Inquiries: (608) 263-6878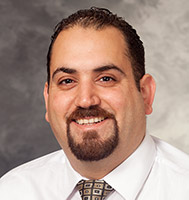 Education
MD, Al-Quds School of Medicine, Abou-Dies, Palestine
Residency, Pediatrics, Marshall University, Huntington, West Virginia
Fellowship, Pediatric Critical Care, Duke University, Durham, North Carolina
Professional Activities
Dr. Awni Al-Subu is associate professor (CHS) in the Division of Critical Care. He is the PICU (Pediatric Intensive Care Unit) medical director and medical director of pediatric respiratory care at American Family Children's Hospital (AFCH). As the PICU medical director, Al-Subu regularly collaborates with critical care, emergency medicine, anesthesiology, and surgical health care professionals to standardize evidence-based care for all critically ill children admitted to the PICU. In addition, he leads quality improvement efforts to develop therapy guidelines.
Clinical Interests
Al-Subu is a pediatric intensivist interested in acute lung injury, acute respiratory distress syndrome, extracorporeal membrane oxygenation (ECMO), and point of care ultrasound (POCUS).
Research Interests
Al-Subu's research focuses on the use of noninvasive, continuous, real-time monitoring technologies in critically ill neonates and children during cardiopulmonary resuscitation (CPR). His ultimate goal is to translate these findings into clinical studies that will benefit infants and children who suffer from cardiac arrest, both inside and outside hospital settings.