Children in immigrant families, especially those who are newly arrived, may have unique health needs. Limited health literacy; cultural and language differences; medical histories that may include undiagnosed disease, infections and lack of dental care; and previous exposure to trauma are all factors that healthcare providers must consider when caring for this population.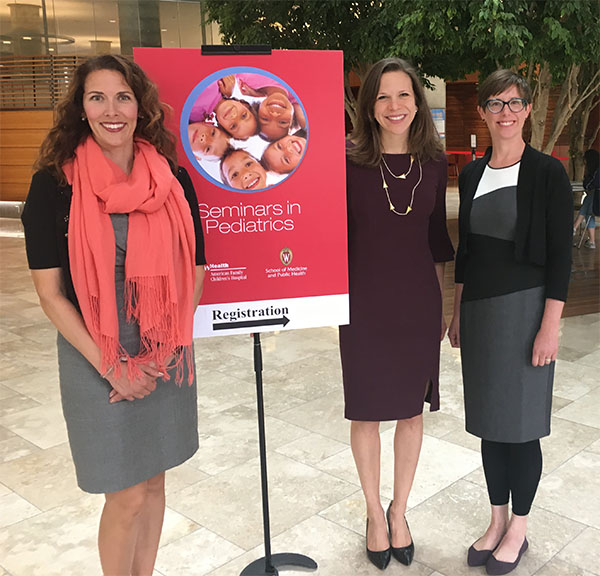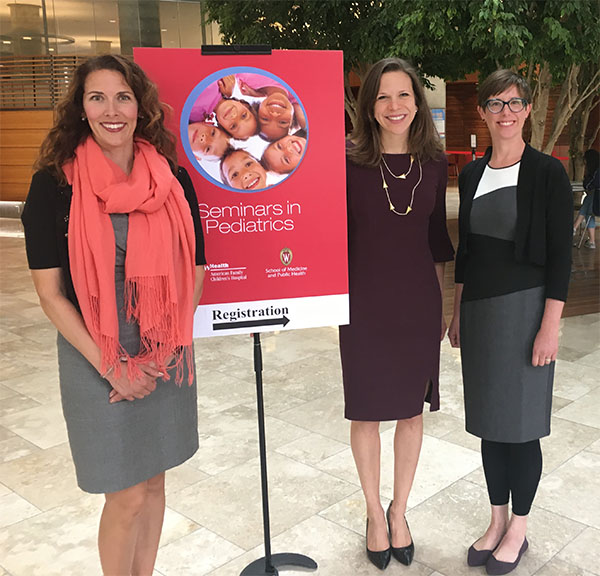 At its 2018 Seminars in Pediatrics, the University of Wisconsin Department of Pediatrics welcomed keynote speaker Julie M. Linton, MD, FAAP, a clinical associate professor at the University of South Carolina School of Medicine-Greenville and Children's Hospital of Greenville Health System, and co-chair of the American Academy of Pediatrics (AAP) Immigrant Health Special Interest Group.
She described best practices for screening the health of immigrant children, described the changing immigration policy landscape and its potential impact on children's health and showed how healthcare providers can serve as advocates.
Five Domains of Clinical Care
In her first of two keynote addresses, Dr. Linton emphasized the importance of incorporating health literacy into all aspects of clinical care.
Immigrant children and families may be coming from places where healthcare is delivered very differently, she explained, and they need clinicians' help to understand basic health information and services, make decisions and navigate the health system.
Dr. Linton then reviewed five clinical domains essential for the care for newly immigrated children.
Setting the stage. To welcome families and help them feel safer, clinicians should communicate in families' preferred language (using an interpreter if needed), and clearly explain concepts of health prevention and confidentiality.
Medical screening. The AAP Immigrant Child Health Toolkit and the Centers for Disease Control and Prevention Refugee Health Guidelines provide resources on the clinical aspects of screening newly immigrated children. Special considerations include access to records, a history of culturally specific procedures, undiagnosed or chronic disease, dental health and infection screening and treatment.
Developmental screening. Newly immigrated children may come from a different cultural framework for development, but screening tools such as The Survey of Wellbeing of Young Children help identify delays and recommend interventions. Coordinated, "warm" handoffs to specialists or community- or school-based service providers make the referral process meaningful and help ensure continuity.
Mental health and trauma. Trauma-informed care is appropriate for this population; the AAP Trauma Toolbox for Primary Care outlines key indicators of trauma and toxic stress. Screening for mental health problems and coordinating care through integrated behavioral health services, community-based programs or school-based interventions helps families best address symptoms.
Social determinants of health. Family unification, acculturation, education, social vulnerability and family immigration status can have an impact on immigrant children's health. Clinicians can screen for these factors and help connect families to local community and legal resources.
Acknowledging time pressures and the enormity of the challenges facing immigrant children, Dr. Linton emphasized the importance of clinician empathy and compassion. "Our willingness to think through problems together helps start the healing process," she said.
Ways to Advocate
In her second keynote, Dr. Linton described changing federal immigration policy, including issues of family separation, detention, Deferred Action for Childhood Arrivals and proposed changes to public charge rules.
She explained that those emerging policies can have an impact on children's long-term health and well-being. Children who experience toxic stress and adverse childhood experiences are at increased risk of disrupted neurodevelopment; social, emotional and cognitive impairment; risky behavior; disease, disability and social problems; and early death (source: CDC).
Dr. Linton said that clinicians can advocate for immigrant children's health in many ways. This might include collaborating with their institution to put welcoming signage in clinics, talking with families in positive ways about what makes them strong, partnering with community organizations that provide support, communicating policy and medical evidence through social media, and engaging with the AAP nationally or locally.
"When all children, no matter their zip code or their passport, are at their healthiest, we all benefit," Dr. Linton concluded. "Each of us are already advocates for children just by being [at this seminar], where we're continuing to learn about policy and health."
---
Seminars in Pediatrics was sponsored by the UW School of Medicine and Public Health Department of Pediatrics, the UW Health American Family Children's Hospital and the University of Wisconsin-Madison Interprofessional Continuing Education Partnership.