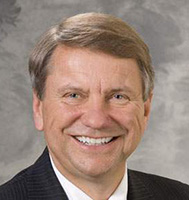 The University of Wisconsin System Board of Regents appointed Robert Lemanske, MD, to the Wisconsin Partnership Program's Oversight and Advisory Committee (OAC) on April 10, 2015.
Dr. Lemanske will begin his four-year term in May. He was nominated by Robert N. Golden, MD, dean of the UW School of Medicine and Public Health, to replace Philip Farrell, MD, PhD. Dr. Farrell was instrumental in the creation of the Wisconsin Partnership Program, and had also served as the OAC's inaugural chair.
Prior to this appointment, Dr. Lemanske had served as a clinical faculty representative on the Partnership Program's Education and Research Committee from 2009-2013.