The Dean Research Group is dedicated to advancing knowledge about early brain and child development. The first years of life are accompanied by rapid changes to the developing brain and cognitive abilities and a multitude of complex interacting factors, including genetics, early-life exposure to substances, family and social interactions, and home and community environments can have lasting effects on the developmental trajectories. At the heart of this research is the advancement and application of quantitative magnetic resonance imaging (MRI) techniques to probe structural, functional, and microstructural features of the brain. With these neuroimaging techniques, we combine aspects of neuroscience, psychology, cognitive science, and genetics to discover how the brain develops as we grow and learn and assess how various environmental and genetic factors influence early neurodevelopment. We are particularly interested in understanding how the trajectory of brain development may differ in individuals with intellectual and developmental disorders, like autism spectrum disorders (ASD), and when neurodevelopmental differences first begin to emerge.

We are currently pursuing multiple lines of research related to understanding early brain development:
Early brain development in infants at risk for autism spectrum disorders
Autism spectrum disorder (ASD) is a complex, heterogeneous group of neurodevelopmental disorders characterized by social impairment, communication difficulties, and repetitive and stereotyped behavior. Millions of young people continue to grow up with ASDs, with the Center for Disease Control and Prevention (CDC) recently updating prevalence estimates to 1 in 59 children affected. Etiologies of this set of disorders remain unknown, although they are believed to be of neurodevelopmental origin.
The primary objective of this research is to fill an important gap in knowledge and understand the central role that early myelin and axonal microstructure development may play in the development of ASD. To study this, we utilize advanced quantitative brain imaging methods to examine and compare myelin and axonal microstructure maturation between high-risk infant siblings and a low-risk (i.e. no familial ASD history) infant group. Knowledge gained from this project could potentially be used to detect early deviations in brain trajectories that would allow individuals at risk for ASD to receive earlier access to interventions. The successful completion of this project and the improved insight of the structural and functional connectivity characteristics of ASD could also impact the development of novel and targeted therapies that aim to improve the well-being of individuals. As other developmental disabilities, such as fragile X syndrome and epilepsy, have a high co-morbidity to ASD, insights from this research have the potential to provide new insights about neurodevelopmental mechanisms central to other intellectual and developmental disabilities.
Development of neuroimaging methods to assess brain development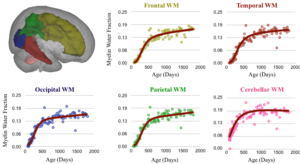 Investigations of early brain development are challenged by several factors, including performing neuroimaging in infants and young children without sedation.
This project aims to address this challenge by developing effective research protocols to lay a foundation for a successful future large-scale, national HEALthy Brain and Cognitive Development (HBCD) birth cohort study, which will follow the developmental trajectories for a decade. Specifically, we will develop and evaluate protocols for acquiring high-quality, quantitative neuroimaging measures with magnetic resonance imaging and functional near infrared spectroscopy, as well as assess effective strategies for measuring cognitive performance in young children. This project is essential to address the major challenges with the planned HBCD study and will leverage a highly collaborative, multidisciplinary team; leading-edge neuroimaging techniques; and outstanding institutional resources.
The effects of iron and neuroinflammation on the infant neurodevelopment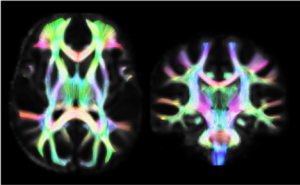 Recent studies suggest that systemic inflammation may impact behavioral development through several differing neurodevelopmental mechanisms. However, the effects of early life inflammation on child brain and behavioral development are largely unknown. In collaboration with Drs. Pamela Kling, Chris Coe, and Richard Davidson, and with support from the Meriter Foundation, we are currently examining potential molecular mechanisms underlying the infant brain and behavior development.
Research News
Researcher Douglas Dean, III, PhD, assistant professor, Division of Neonatology and Newborn Nursery, and Department of Medical Physics, is a member of a Waisman Center research team that recently received $10 million in funding from …

November 25, 2022