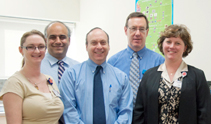 A reopened clinical trial led by Department of Pediatrics Associate Professor Kenneth DeSantes, MD, may offer hope for children with life-threatening cancer that hasn't responded to conventional treatment.
The trial uses an experimental therapy called natural killer (NK) cell infusions to boost the body's ability to fight cancer after stem-cell transplant. Recent changes to the trial's protocol may help children with recurrent acute leukemia or high-risk solid tumors stay in remission—with less risk of transplant-related complications.
How the Trial Works
Conventional stem-cell or bone marrow transplants work through a phenomenon called the "graft versus tumor" effect, in which the donor's transplanted immune system helps kill cancer cells in the patient's body.
Infusing NK cells after stem-cell transplant takes that effect one step further. That's because NK cells, which comprise about 2% of the body's white blood cells, are particularly aggressive cancer killers.
"There's a significant amount of data suggesting that NK cells exert a potent anti-leukemic effect after a stem cell transplant," Dr. DeSantes explained. "Now we're looking at whether NK cells can also mediate an immune response against solid tumors."
In the trial, blood from the patient and both parents is first typed to determine which parent's NK cells are better able to recognize and destroy their child's cancer.
The donor's peripheral blood stem cells are then collected and sent to the bone marrow transplant laboratory, where most of the T cells, another type of white blood cell critical for immunity, are removed. This is done to prevent graft-versus-host disease (GVHD), a complication in which transplanted cells attack the recipient's body.
After lab processing, the patient receives a rich collection of stem cells. The cells left over are processed again to select the NK cells and further deplete any remaining T cells.
The patient then receives a separate infusion of donor NK cells one day after transplant, with additional infusions to follow.
Protocol Modifications Aim to Prevent Complications
As with most experimental treatments, the trial has undergone some modifications since it was first launched in 2007.
For example, in the original protocol, the NK cell infusion had a higher concentration of T cells. That's because for some types of cancer, the presence of T cells mediates the cancer-killing effect. The reasoning was that even if the higher presence of T cells caused some GVHD, the tradeoff might be acceptable if it helped prevent relapse in patients with life-threatening cancer.
Early experiences, however, showed that the higher concentration of T cells didn't slow tumor progression, and resulted in a higher-than-expected incidence of GVHD.
As a result, the trial was amended to reduce the risk of GVHD. This was accomplished by lowering the T-cell dose and treating patients with a short course of cyclosporine, an immunosuppressant that doesn't inhibit the function of NK cells.
A Last Chance at Hope
Although the trial is still in the very early stages, there is initial good news. One participant with acute myeloid leukemia, who had continued to relapse despite multiple attempts with standard chemotherapy, now remains in remission two months after stem-cell transplant with NK cell infusion.
"It's the first time he's been in remission since the relapse," Dr. DeSantes said. "If we didn't have this trial open, we could not have offered any hope for cure, since he was not eligible for a conventional bone marrow transplant."
More time is needed to determine the true benefit of this approach, but if results continue to be encouraging, the study could expand to other institutions.
Right now, though, for Dr. DeSantes, one thing is clear: very few trials, or centers, even offer this type of novel therapy. "What's most important is that we are providing some hope of cure to patients who otherwise have no chance."
"Haploidentical Transplant With NK Cell Infusion for Pediatric Acute Leukemia and Solid Tumors" is funded by Midwest Athletes Against Childhood Cancer, Solving Kids' Cancer and the Magic Waters Foundation.