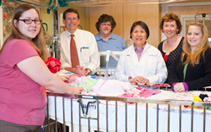 A team led by Associate Professor and Vice President of Quality Improvement Tom Brazelton, MD, MPH, is participating in a national collaborative quality project to prevent central line-associated bloodstream infections at the American Family Children's Hospital (AFCH) Pediatric Intensive Care Unit (PICU).
Central line-associated bloodstream infections can result in significant medical costs and complications. As many as one in four people who get them will die.
A 2004 study by the CDC found that among 54 PICUs nationwide, the average central line-associated bloodstream infection rate was 6.6 per 1,000 central-line days. Fortunately, national prevention efforts over the past decade have caused these rates to plummet.
Under the leadership of Dr. Brazelton, AFCH joined one such effort, the National Association of Children's Hospitals and Related Institutions' (NACHRI) Quality Transformation Network, in December 2009.
Best Practices For Preventing Infections
The project has three main components for preventing bloodstream infections. First, to ensure that the line is inserted using sterile technique, physicians follow a checklist and use a dedicated central line cart with all needed equipment. A nurse observes the procedure, and has responsibility for stopping it if problems arise.
Second, nursing teams use standardized best practices for maintaining of the line. Each day, they also assess whether the line is still necessary or could be removed.
Finally, the institution commits to sustaining a team-oriented "safety culture." To be part of the project, It must complete the Agency for Healthcare Research and Quality's (AHRQ) safety culture survey with greater than 90 percent participation.
"For the past six or seven years, we've been using elements of these best practices to reduce central line infections at AFCH," Dr. Brazelton noted. "We were compliant with the NACHRI project components for many years before we even joined the collaborative."
'Safety Culture' Leads to Exceptional Results
Results show that the practices are working. Since December 2009, the AFCH team has prevented seven infections and one death, Dr. Brazelton said, and saved over $250,000 in medical costs.
Dr. Brazelton added that when exclusively using antibiotic-impregnated central lines for critically ill children in the PICU, our team has had zero infections since August 2009—four months before it joined the collaborative.
Overall, the rate for central line infections in the PICU is 1.2 per 1,000 line-days in 2010. This is a 25% reduction from the 2009 rate of 1.6 infections per 1,000 line-days.
What's more, the AFCH team was recognized at a recent national meeting as having one of the best "safety cultures" in the collaboration—a factor Dr. Brazelton believes is essential for quality care.
"Studies have shown that dysfunctional cultures contribute to bad outcomes," Dr. Brazelton commented. "Here, we're working hard to have a culture where people are engaged and empowered. This includes parents, nurses, respiratory therapists, pharmacists, child life specialists, everyone."