Implementing sustainable health care models in the developing world has become a way of life for Lisa Umphrey, MD, a 2010 graduate of the Pediatrics residency program, and her husband and former department research scientist Douglas DaSilva.
The two recently spent over a year managing and staffing a clinic in rural Uganda—at one point with help from Pediatrics faculty Francois Luyet, MD—and are now taking the model they developed there to other locations throughout the country.
Interest Sparked During Residency
Dr. Umphrey made her first of many trips to Uganda in 2008 for her pediatrics residency international rotation.
After graduation, she became the full-time manager at Project Bumwalukani, a small clinic that serves approximately 20,000 people in rural northeastern Uganda. Project Bumwalukani was established by the Foundation for International Medical Relief of Children (FIMRC) in partnership with the Arlington Academy of Hope.
Although Uganda has a national healthcare system, the Bumwalukani clinic, like most other healthcare facilities in the region, has little support (including adequate salaries for staff) and few resources. It also had many patients suffering from such medical problems as malaria, tuberculosis, HIV, malnutrition, and vitamin deficiencies.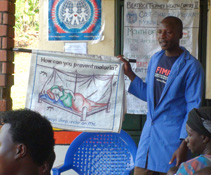 A Sustainable Clinic Model
Dr. Umphrey and DaSilva—who had experience providing health education in Nepal—developed a clinic model that maximized what resources were available, specifically focusing on prevention, education, and follow-up.
They organized the clinic around five stations: 1) intake, 2) simple evaluation, 3) complex diagnosis and prescription, 4) dispensing and treatment, and 5) review and follow-up instruction. Community volunteers or healthcare providers with appropriate education and training staffed each station.
They also created an educational curriculum that included general health discussions for patients in the waiting room, plus targeted education on maternal and child health, basic primary health, and HIV.
In addition, they helped train village health team (VHT) members—influential community members who provide door-to-door education, first aid, and health assistance, and may also volunteer in the clinic. VHT members are critically important to reducing the burden on the clinic and its few providers.
Finally, they created a partnership network to better link clinics, hospitals, and health organizations in the region—connections that are crucial in a landscape of scarce resources.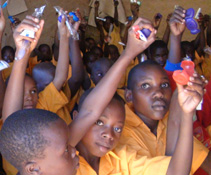 Impact and Next Steps
For Dr. Umphrey and DaSilva, the year at Bumwalukani was a success: they implemented their model at the clinic and at another site in the region, and are now working with Arlington Academy of Hope to take it "on the road" throughout Uganda.
But it wasn't without its challenges. The pair have suffered their share of tropical diseases, learned how to run a facility with spotty power and little physical infrastructure, and adjusted to significant cultural differences.
"You have to go beyond your comfort zone to do this work," Dr. Umphrey said. "But a lot of what I learned in residency was very applicable. Although the diseases and systems are different here, I came in with a very strong medical background."