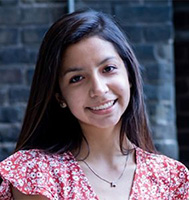 When undergraduate in biochemistry Alina Grimaldo sought out research opportunities at UW–Madison, she was fortunate to cross paths with Bernadette Gillick, PhD, MSPT, PT, associate professor in the Division of Developmental Pediatrics and Rehabilitation Medicine. Gillick, an internationally respected expert on the use of innovative technologies and interventions in perinatal stroke and cerebral palsy from infancy to young adulthood, found a spot for Grimaldo working with her team on her current NIH-funded project, the Baby Brain Recovery Study. Working within the Pediatrics Neuromodulation Laboratory (PNL) in the Waisman Center, Gillick and her research team, including Grimaldo, are engaged in a two-year longitudinal study to assess the recovery and development of the infant brain after early stroke or brain bleed using noninvasive methods.
Grimaldo, though an undergraduate and still early in her career path toward medicine, has been deeply engaged in the project. She wrote an article for Fueling Discovery, a joint publication of the Wisconsin State Journal and the UW–Madison College of Letters and Science that accompanied the Sunday, October 23, issue of the newspaper. In "Understanding Recovery and Development in Children with Early Brain Injury and Cerebral Palsy," Grimaldo provides a view of Gillick's innovative project, describing how infant brain injury, the primary cause of cerebral palsy, occurs, and how researchers' use of noninvasive technology can examine brain recovery and development after injury. These methods include magnetic resonance imaging (MRI), behavioral and developmental assessment, and transcranial magnetic stimulation (TMS). MRI provides images of brain structure; physical therapists assess developmental milestones, behavior, muscle tone, and reflexes; and TMS assesses brain connectivity and excitability. The data from these investigations may help predict kinds of motor development and possible later diagnosis of cerebral palsy. Early diagnosis of brain injury allows for early therapeutic interventions.
Grimaldo has been involved in subject recruitment, data collection, methods, refinement of study documents and processes, grant writing, and working with the participant families. She has also initiated the Multilingual Access Project within the PNL to reach out to families in underserved communities who may want to participate in the study in their native language. For her dedicated work, Grimaldo was awarded the Waisman Center's Intellectual and Developmental Disabilities Research Center Undergraduate Student Award.