Contrary to conventional wisdom, the most prevalent mental health problem in children isn't ADHD or depression—it's anxiety. Anxiety disorders affect up to 25 percent of youth, compared to 7 to 10 percent for ADHD or depression.
Stress and anxiety in children is also frequently undetected, which can lead to academic and psychosocial difficulties; an increased risk of depression, suicide and substance abuse; and even physical illness.
At the 2013 Seminars in Pediatrics, pediatric psychiatrist and UW Anxiety Disorders Program Director Marcia Slattery, MD, MHS, gave a two-part keynote address to help clinicians better understand the role anxiety and stress plays in children's health—and when and how to intervene.
Anxiety and Stress Leads to Adult Health Problems
Seminars in Pediatrics took place on September 19 and 20, 2013, at Monona Terrace Community and Convention Center. A total of 179 attendees—community pediatricians and family physicians, residents, nurses and midlevel providers—learned about current clinical and research trends that they could implement right away in their pediatric practices.
The event kicked off with a welcome from Kristin Shadman, MD, the UW Department of Pediatrics' director of continuing professional development.
Dr. Slattery then began her keynote by reviewing the prevalence, types and presentations of common childhood anxiety disorders, which she characterized as "silent, secretive, and insidious."
She also described her research into how stress, the key risk factor for anxiety, causes physiologic responses in the body that can lead to illness. Children who are under chronic stress and who do not have adequate coping abilities, she said, are at increased risk for health problems in childhood and adulthood.
Rounding out the first day were educational presentations on pediatric obesity counseling, environmental health, and the uses of telehealth in inpatient and outpatient settings.
Integrating Mental Health and Primary Care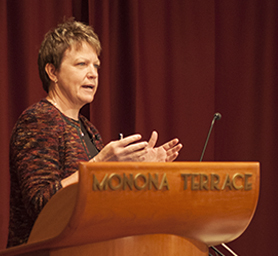 Dr. Slattery continued her keynote the next day with a discussion of how clinicians can screen, assess, and treat children struggling with anxiety disorders and stress, and the role parents play in that process.
For children under stress, she described the "stress-stop treatment": assessment of stress in children and a series of six interventions that focus on day-to-day consistency, screen time, parent-child interaction, positive feedback, relaxation and mindfulness, and the impact of parental stress.
She concluded by emphasizing the critical role that primary care clinicians play in identifying and treating anxiety and stress in children. "The integration of mental health into primary care is a win-win equation," she said.
The second day continued with educational sessions on such topics as the challenge of Clostridium difficile infections, managing inflammatory bowel disease in children, pediatric posttraumatic stress disorder, autism spectrum disorders, eating disorders, and health literacy.
Finally, in an innovative session called "Two Minutes, Two Slides, Two Questions," seven residents used limited time and audiovisual support to present an interesting clinical case and answer audience questions about their chosen treatment option.
---
Save the Date: The 2014 Seminars in Pediatrics will be held September 18–19, 2014, at Monona Terrace.
Seminars in Pediatrics was sponsored by the UW School of Medicine and Public Health Department of Pediatrics and Office of Continuing Professional Development, and the American Family Children's Hospital.