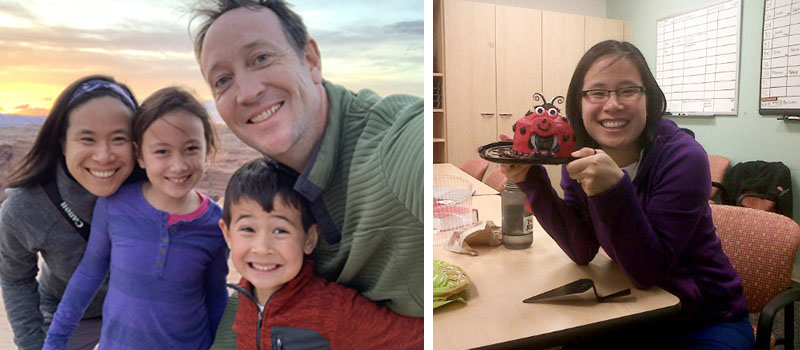 "There is value in true human interaction and every child, no matter their age, deserves a doctor who genuinely cares for them," stated Cathy Lee-Miller, MD (Assistant Professor, Division of Hematology, Oncology & Bone Marrow Transplant), during a recent interview about her decision to join the University of Wisconsin Department of Pediatrics as a faculty member this past April. Learn more about Dr. Lee-Miller, her background and her enthusiasm for pediatric care in the Q&A below.
Tell us about your educational and professional background: I was born and raised in a suburb of Atlanta, GA, attended University of Georgia (Go Dawgs!) for undergrad, and majored in French and political science. I decided during spring break of my senior year of college that I wanted to be a doctor so I rearranged my courses for the last 5 weeks of my senior year, delayed graduation, then proceeded to take all the pre-med requirements and MCAT in my 5th year of college. I then took two years off from formal schooling and lived in Boulder CO, working as a non-graduate student teaching assistant in the biology department at the University of Colorado. I went to medical school at University of Rochester in Rochester NY, where I was class president for four years. I came to the University of Wisconsin-Madison for pediatric residency and stayed for a chief resident year. I went to University of Colorado for its pediatric hematology/oncology fellowship. My first job out of training was a staff physician at Phoenix Children's Hospital, where I was a member of the leukemia/lymphoma team and associate program director for the fellowship for 3.5 years. I am thrilled now to be coming full circle back to Madison, albeit in the midst of a pandemic, to continue and hopefully finish my career.
How did you get into your field of research or clinical specialty? Unintentionally. As a medical student, I thought I would go in to family medicine but my 3rd year pediatrics rotation stole my heart. I was assigned to the peds hem/onc unit for my 3rd year rotation and fell in love with the medicine, the patients, and the teamwork. I seriously considered both peds ID and peds nephrology as a resident before settling back on hem/onc.
Similarly, when I started fellowship, I thought I wanted to specialize in solid tumors but through a series of events, I worked in a leukemia lab for two years and I simultaneously found myself drawn to patients with leukemias, where I could create longitudinal relationships with my patients and their families.
How would you explain your job to a five-year old? I help lead a team of doctors, nurses, social workers, therapists, pharmacists and other really cool people who take care of children who are sick. These children sometimes don't feel good but they are also brave and strong, sometimes more than they ever realized. I get to celebrate with everyone when the kids feel better again. I feel honored to work with families even when sad things happen.
What's the coolest thing you're working on right now? As soon to be program director for the peds hem/onc fellowship, I am working on figuring out how to adapt our recruitment process for an entirely virtual experience. How do we continue to attract wonderful applicants and demonstrate how incredible our program is to them? Though the pandemic has led to a lot of potential difficulties in recruitment, what advantages can we take from it? It is a thought-provoking and fascinating experience.
What attracted you to UW–Madison? I decided to apply for residency because I liked that it was a well-regarded program in a smaller town. I still remember, in incredibly vivid detail, the experience of a current resident picking me up from the airport and driving me to the applicant dinner at one of the senior resident's houses. I was impressed by how well everyone got along, how genuine everyone seemed and how kind everyone was. From then on, I compared every interview experience at other hospitals to Madison and all the rest came up short.
I came back to Madison because I knew I wanted to build my career at a place that thrives on collaboration and camaraderie. I wanted a place that was able to focus on each patient and family and make them feel heard and cared for. I wanted colleagues who could debate the merits of treatment protocols with each other in meaningful and respectful ways. I wanted to raise my children in a city like Madison, a city that is smaller but vibrant, a cultural and political hub. Madison also provides career opportunities for both my husband (PhD in atmospheric sciences who does climate change research) and me. Honestly, from the moment I left Madison in 2013, I knew I wanted to come back eventually.
What was your first visit to campus like? I came to Madison the first time because I had a friend in grad school here so I stopped on my way from Colorado to upstate NY on my move to medical school. It was August and it was green and lush and there were so many people outside biking, walking, running and I fell in love with the vibe of the city.
What's one thing you hope students who take a class with you will come away with? I hope that learners I interact with understand that work and patient care and learning do not always have to be serious. There is space in every workday for fun and levity. There is value in true human interaction and that every child, no matter their age, deserves a doctor who genuinely cares for them.
Do you feel your work relates in any way to the Wisconsin Idea? Being a physician at UW means caring for all of Wisconsin's citizens. By caring for the state's children, our hospital gets the opportunity to shape the future of this state.
What's something interesting about your area of expertise you can share that will make us sound smarter at parties? Research tells us that young adults (perhaps as old as 35 years) benefit not just from being treated on pediatric protocols for some malignancies, but actually by being treated at children's hospitals. It's not just the chemo, it's the supportive care and all the other services and amenities that children's hospitals offer that may lead to better outcomes.
Thankfully, pediatric cancer is rare. In the US, approximately 15,500 new cases of pediatric cancer are diagnosed each year. By comparison, there are 250,000 new cases each of breast cancer and lung cancer and about 140,000 new cases of colon cancer per year in the US. As a result, the resources we are able to put towards each individual patient is much greater in pediatric oncology.
Any hobbies/other interests you'd like to share? I am a runner but have never won a race. I run more for the consistency and the meditative repetitiveness of it. I run at least 3 miles every morning. I have previously run 3 marathons but these days, never run more than a 10k. Otherwise, I spend most of my spare time with my husband Nate, 8-year-old daughter Nora, and 5-year-old son Henry. And our pandemic puppy, Millie.