All hospitalized children and their caregivers throughout American Family Children's Hospital (AFCH) now have access to MyChart Bedside, an inpatient portal that provides real-time information about their health, their care plan and what to expect during their hospital stay.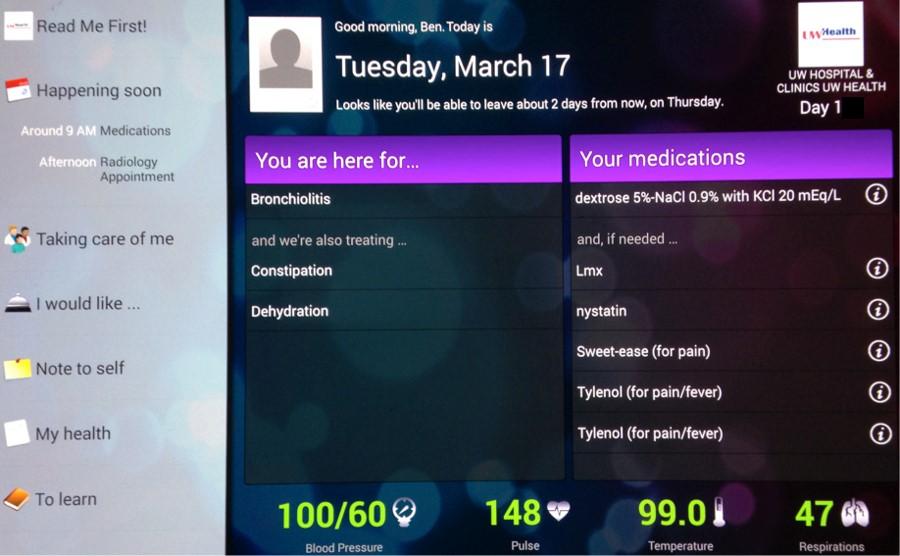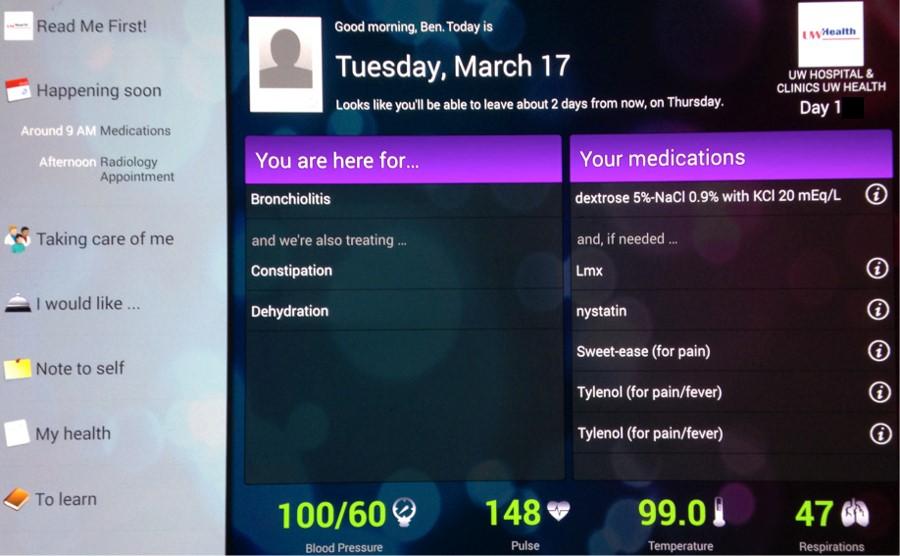 Parents (or patients themselves, if they are adolescents) receive a tablet computer loaded with the MyChart Bedside app to use throughout the hospital stay.
The app provides access to key portions of the child's hospital medical record, including real-time medications, diagnoses, test results, personalized education, and anticipated discharge information. It also displays the child's daily schedule, photos and a way to message the inpatient care team.
Because the portal provides transparency in care, parents report that it helps them feel more in control and empowered to make decisions for their child—key factors for improving parent engagement and, ultimately, the quality and safety of their child's care.
Building on a Successful Pilot
The rollout builds on a successful pilot first launched on AFCH's fifth floor in December 2014.
In the pilot, almost 300 parents used the portal and were very positive about it. Overall, 94 percent agreed that it improved the quality of their child's care, 89 percent perceived that its use reduced errors, and 8 percent reported that it helped them find at least one medication error. Others reported that it gave them the information they needed to make decisions about their child's care.
For example, one parent said: "It gives you a sense of control … I don't always want to have to 'ask did this happen, did this get done?' … it's not that I'm worrying about bothering people, but you also recognize that there's a lot going on, and so it kind of gives you (answers to) some of those questions you might have…."
Although hospital staff anticipated challenges with sharing information with families using the portal, all challenges perceived by staff were significantly reduced six months into the pilot. There were also very few calls to the help desk and no tablets were broken, lost, or stolen.
The success of the pilot led to rollout of the portal across AFCH, including the pediatric and neonatal ICUs, in February 2017. UW Health plans to implement the portal with adult patients in the next year.
Download the Toolkit
To provide practical information for other children's hospitals planning to implement MyChart Bedside, pediatric hospitalist Michelle Kelly, MD; UW Health Senior Vice President and Chief Medical Information Officer Shannon M. Dean, MD; and UW-Madison human factors and systems engineer Peter Hoonakker, PhD, created a toolkit that's available for free download (registration required) at HipXChange.
The toolkit includes materials to engage institutional stakeholders, timelines and planning documents, information on key decisions and pediatric considerations, data collection tools, lessons learned and publications.
It's based on questions fielded from other children's hospitals, and designed for health care administrators, care team members, information services staff and researchers seeking guidance as they introduce, implement or evaluate an inpatient portal.
For more information about the toolkit, visit HipXChange or contact Dr. Kelly.