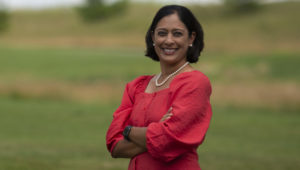 The University of Wisconsin Department of Pediatrics' strategic plan, first developed in mid-2018, took shape under the faculty and staff's priorities, one of which was to create a culture in which people and ideas could thrive. To that end, five directorships were formed to focus on areas relevant across all divisions: Professional Development; Diversity, Equity, and Inclusion; Advocacy; Quality Improvement; and Well-being. In 2021, Mala Mathur, MD, MPH, associate professor, General Pediatrics and Adolescent Medicine, was named the inaugural Director of Professional Development.
Professional Development is a robust program with a long history within the Department of Pediatrics. Its many offerings include Pediatric Grand Rounds, Seminars in Pediatrics, Research Week, departmental workshops, a professional development series, and an increasing number of lectureships, including the Iams-Tuffli, Gilbert-Barnes, and the Gerard B. Odell. Most recently added was The Allen Family Foundation Inspiring Children Lectureship, which was presented on July 14.  In addition to Mathur, the professional development team includes Reva Finkelman, professional development manager; Catherine (Kate) Dougherty, professional development specialist; and Jenna Contreras, strategic initiative specialist.
For the first year as director, Mathur and the team developed and conducted a survey to learn the department's needs and to guide the vision and mission of their work. They have been working on assembling committees, such as the Professional Development, Grand Rounds, Seminar in Pediatrics, and Research Week Committees, on which faculty, staff and trainees can be included. "I am working on creating the infrastructure to allow creativity and innovation in professional development programming," explained Mathur. "The vision of Professional Development is that all faculty, staff, and trainees will feel supported to flourish in their personal lives and their professional careers."
Mathur has a strong interest and a record of accomplishment in professional development. As president of the Wisconsin chapter of the American Academy of Pediatrics (WIAAP), she planned and hosted several educational conferences, including the annual WIAPP Advocacy Day. "I really enjoyed this," recounted Mathur, "so it was an easy decision a couple of years ago to accept an invitation to be the Course Director for our department's annual conference, Seminars in Pediatrics."
Born and raised in Rochester, New York, Mathur developed an early interest in science and pursued an undergraduate degree in biology at Tufts University. Her strong foundation in biology made medicine an obvious career choice. Although she kept an open mind about possible medical specialties, Mathur noted, "It was an easy decision to go into pediatrics as I love working with children and families." She completed her medical degree at the State University School of Medicine in Buffalo, New York, with two years of pediatric residency at Children's Hospital of Buffalo and her final year of residency at Loyola University Medical Center in Chicago.
After five years in private practice in Chicago, Mathur, her husband, and their three children moved to Madison in 2003 for her husband's fellowship. She obtained her Master of Public Health degree at the University of Wisconsin­–Madison's School of Medicine and Public Health (SMPH) and established herself as a primary care physician with Group Health Cooperative of South Central Wisconsin. In 2016, Mathur was asked to join the faculty of SMPH's Department of Pediatrics, where she currently serves as clinical associate professor.
The position of Director of Professional Development, which encompasses 20 percent of her appointment, has allowed Mathur to focus on national and local issues affecting pediatric clinical care, education, quality improvement, research, and advocacy.  "It is incredibly gratifying to bring relevant pediatric educational opportunities to our department that can impact our faculty, staff and trainees and the work that they do," shared Mathur.
An important Professional Development annual event under Mathur's direction, Seminars in Pediatrics, will take place in September with an in-person option for the first time in two years. The conference's co-chair is Kristin Tiedt, MD, assistant professor, Hospital Medicine. The event will be held at the Memorial Union on Friday, September 9, 2022, from 8 a.m. to 5:30 p.m. Participants have two options to attend: in-person or on-demand. In-person participants may gather for breakfast, lectures, workshops, lunch, networking, access to vendors, and a cocktail hour.
The theme of this year's Seminars in Pediatrics Conference is "Growth and Development." Mathur noted, "We are hoping attendees will find this conference useful as the topics apply to all providers who care for children." Lecture topics include "Pediatric Feeding Disorder: Not Just Picky Eating," presented by Mary Marcus, MS, RDN, CSP, CD, dietician with the Waisman Center and Maria Stanley, MD, professor and division chief of Developmental Pediatrics and Rehab Medicine; "Legislating Bodies: Gender-Affirming Care in 2022," presented by Britt Allen, MD, associate professor, General Pediatrics and Adolescent Medicine; "Pediatric Sedation Unmasked: An Update for Providers of Pediatric Care," presented by Megan Peters, MD, assistant professor, Pediatric Critical Care Medicine; and "Meeting at the Intersection of Alternate Realities: Supporting Families and Patients Affected by Eating Disorders," presented by Emily Ruedinger, MD, MED, assistant professor, General Pediatrics and Adolescent Medicine.
Registration is $250 for the in-person live event and $150 for virtual participation. The four main lectures will also be available on-demand, and attendees will have a year to complete the CME/MOC credits for each lecture. To learn more about Seminars in Pediatrics, visit go.wisc.edu/seminars2022.