A new national consortium led by James Gern, MD, will work to better understand how genetic and environmental factors interact to cause specific types of childhood asthma.
Supported by a new $15 million grant from the National Institutes of Health (NIH), the Children's Respiratory Research and Environment Workgroup (CREW) comprises investigators from 12 asthma birth cohort studies across the U.S.
The grant is part of the NIH's seven-year, $157 million Environmental Influences on Child Health Outcomes (ECHO) initiative, which will investigate how exposure to a range of environmental factors in early development – from conception through early childhood – influences the health of children and adolescents.
Early-Life Experiences Affect Children's Health
Experiences during sensitive developmental windows, including around the time of conception, later in pregnancy, and during infancy and early childhood, can have long-lasting effects on the health of children.
These experiences can encompass air pollution and chemicals in our neighborhoods, societal factors such as stress and individual behaviors like sleep and diet.
They may act through any number of biological processes; for example, changes in the expression of genes or development of the immune system.
Overcoming Limitations of Individual Studies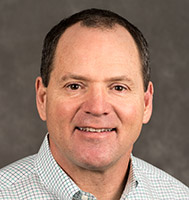 Although individual birth cohort studies have identified risk factors for developing childhood asthma, small sample sizes and unique population characteristics limit their ability to identify the root causes of the disease.
"Studies of children from single research centers have taught us that the environment during the prenatal period and in infancy greatly influences who develops asthma," said Dr. Gern. "The CREW study and the overall ECHO program will for the first time enable information from multiple studies to be combined so that U.S. investigators working together can identify causes and develop new strategies to prevent severe childhood asthma."
The CREW consortium will work to identify specific asthma subtypes and overcome shortcomings of individual cohorts by:
Providing a large and diverse national data set of nearly 9,000 births and long-term follow-up for 6,000-7,000 children and young adults;
Harmonizing data related to asthma clinical indicators and early-life environmental exposures;
Developing standardized measures for prospective data collection across CREW cohorts and other ECHO studies; and
Conducting targeted enrollment of additional subjects into existing cohorts.
ECHO Initiative Supports Future Studies
The ECHO initiative will also support multiple longitudinal studies that extend and expand existing cohort studies of mothers and their children.
That research will focus on factors that may influence health outcomes around the time of birth as well as into later childhood and adolescence, including upper and lower airway health and development, obesity, and brain and nervous system development.
—
Collaborating institutions in the CREW Consortium include Brigham and Women's Hospital, Boston; Cincinnati Children's Hospital Medical Center; Columbia University Medical Center; Harvard T.H. Chan School of Public Health; Henry Ford Health System, Detroit; Marshfield Clinic Research Foundation, Marshfield, WI; Rho Federal Systems Division, Inc., Chapel Hill, N.C.; University of Arizona; University of California, San Francisco; University of Chicago; University of Manchester, Manchester, England; Vanderbilt University Medical Center; Washington University.