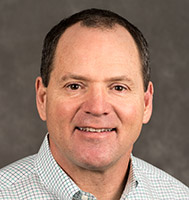 James Gern, MD, is a co-director on a new seven-year, $70 million grant from the National Institute of Allergy and Infectious Diseases (NIAID) — the largest grant ever received by the UW School of Medicine and Public Health.
The grant continues work on the Inner-City Asthma Consortium (ICAC), a nationwide clinical research network that leads research and seeks new immune-based treatments for asthma in inner-city children.
William Busse, MD, a professor in the UW Department of Medicine, is the project's principal investigator.
Dr. Gern and Christine Sorkness, PharmD, are ICAC co-directors, providing overall scientific direction and management services for the consortium. Dr. Gern also leads the Urban Environment and Childhood Asthma (URECA) birth cohort study to identify environmental factors that promote asthma.