The Gilbert-Barness Lectureship, as designated by its endowment, invites University of Wisconsin medical community individuals who will provide state-of-the-art, contemporary information and ideas in the areas of pediatrics and pathology. The lectureship is co-administered by the Departments of Pathology and Pediatrics. The lectureship embodies the highest ideals of academics. It broadens the learning potential of both departments and will bring to the entire University community fresh ideas on which to contemplate. The 2023 Gilbert-Barness Lectureship will take place on Thursday, October 19, 2023.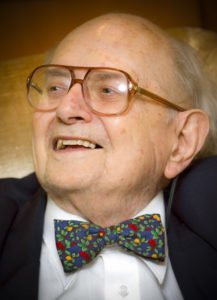 Lewis A. Barness, MD, received his undergraduate and medical school training at Harvard. He completed his internship at Philadelphia General Hospital, a research fellowship at Children's Hospital in Boston and the Massachusetts Institute of Technology, and his residency at Boston Children's Hospital. From 1972 to 1988, Dr. Barness was Professor and Chairman of the University of South Florida, Department of Pediatrics, in Tampa. In 1987, he became visiting professor at the University of Wisconsin-Madison. During Dr. Barness's visiting professorship at Wisconsin, he endeared himself to students at all levels of training. He passed in 2013.
---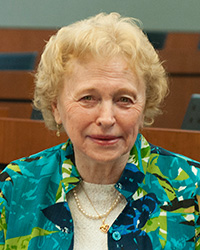 Enid Gilbert-Barness, MD, was born in Sydney, Australia. She received her bachelors and medical degrees at the University of Sydney and completed her residencies in pathology and pediatrics in London, Boston, and at the Children's Hospital of Philadelphia. She was a research fellow at the University of Pennsylvania and Children's Hospital in Washington, D.C. Prior to coming to the University of Wisconsin in 1970, Dr. Gilbert-Barness was on the faculty at West Virginia. At The University of Wisconsin-Madison, she was Professor of Pathology, Pediatrics, and Director of Surgical Pathology. Dr. Gilbert-Barness was nominated 16 times for the Preclinical Teaching Award while at the University of Wisconsin-Madison, was named Best Teacher of the Year by the second year medical students 7 times, and awarded the University of Wisconsin Distinguished Teaching Award in 1984. Dr. Gilbert-Barness passed in 2022.
Gilbert-Barness Lecturers
2022 – Linda Ernst, MD "Placental Pathology in 2022: Where Are We and Where Are We Going?"
2021 – Cecilia Berin, PhD "Clinical Implication of T Cell Phenotypes in Food Allergy"
2018 – Raj Kapur, MD, PhD "Caring for the Patient with Hirschsprung Disease: Partnership Between Surgeon and Pathologist"
2017 – Patricia Emmanuel, MD "Molecular Diagnostics for CNS Infections – an Expanding Toolbox for Pediatricians"
2015 – Paul Jedlicka, MD, PhD "Ewing Sarcoma, a Not-so-Simple Oncogene Fusion-Driven Cancer"
2014 – Philip M. Farrell, MD and Michael H. Farrell, MD "Quality Improvement in Screening Programs: A Tribute to Dr. Lewis A. Barness"
2013 – Daniel Ostlie, MD "Evidence-Based Surgical Practice"
2012 – Elizabeth Perlman, MD "Wilm Tumor Development: From Pathology to Genomics"
2011 – David B. Allen, MD "Lessons Learned from the Growth Hormone Era"
2010 – Kondi Wong, MD, Colonel (retired) USAF MC "The Cree Leukoencephalopathy Chronicles: Childhood Gaucher and the Parkinson's Link"
2009 – Carlo Di Lorenzo, MD "What to do with the Child with Functional Abdominal Pain"
2008 – Michael Fritsch, MD, PhD
2007 – Jeffrey L. Segar, MD "Fetal Origins of Adult Disease"
2006 – Pierre Russo, MD "Enteropathies of Infancy"
2005 – Aaron L. Friedman, MD "Genetics and the Kidney: Improving our Understanding of Renal Development, Physiology, and Pathophysiology"
2004 – Dawna Armstrong, MD, FRCP "The Rett Syndrome"
2003 – Phillip Farrell, MD, PhD "Diagnosing Through Screening Using Traditional and Molecular Methods"
2002 – Don B. Singer, MD "Thirty-Five Years in the Amniotic Sac"
2001 – John M. Opitz, MD "In Praise of (Judicious Amounts of) Cholesterol: Lessons Learned from the RSH (Smith-Lemli-Opitz) Syndrome"
1998 – Grant Morrow, MD "Metabolic Diseases: What Goes Around Comes Around"
1997 – Enid Gilbert-Barness, MD "Cardiomyopathy in Children"
1996 – Lewis Barness, MD "Pediatric Smells"