What is DiSH?
Diabetes in School Health ECHO is a monthly school diabetes health teleconferencing program for school nurses and school personnel who care for students with diabetes. Each ECHO session will have a 10-15 minute talk by a pediatric diabetes expert followed by 45-50 minutes of discussion of de-identified cases and questions to promote collaborative learning between school personnel in communities across the state.
---
Upcoming Sessions
| Date & Time | Session Title |
| --- | --- |
| Wednesday, Apr 20, 2022 3-4 PM CST | Diabetes Care Beyond the Classroom: Field Trips & Extracurriculars |
| Wednesday, May 18, 2022 3-4 PM CST | Hypoglycemia: A Deep Dive into Low Sugars |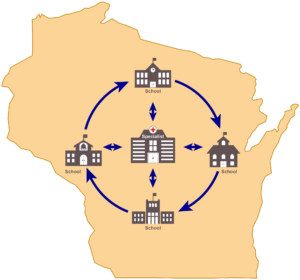 This is an accordion element with a series of buttons that open and close related content panels.
How to Join Our Live Sessions
How to Claim CME Credit
How to Submit Cases for Future Sessions
Other Educational Resources
Diabetes isn't easy, but there are some ways to lighten the mental load. Try these tips and tricks when you're stressed about your insulin injection routine. https://beyondtype1.org/insulin-injection-routine-stress-tips/
Load More...